County
Republicans Hijack Primary Election At High Cost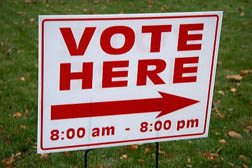 When U.S. District Judge Lynn Winmill ruled that Republicans had a right to determine their candidates at at closed primary election, few people understood the ramifications of that decision.
The net result is massive confusion about who can vote for what or whom. Also we predict many voters will be so overwhelmed they will simply throw up their hands and go home–probably angry. Ada County chief election officer Chris Rich tells the GUARDIAN the process is expensive, noting he has hired 145 extra election workers–one for each precinct–just to explain the ballot. He also has produced several written documents which will be mailed to each voter.
It is such a mess that Republicans can vote in the Dems primary, but Dems aren't allowed to vote in the Repub races. If you declare yourself as an "Independent" you get a ballot with only a couple of judge's. Furthermore, your boss, your employees, and political adversaries can check the PUBLIC RECORD voter registration rolls to learn your party affiliation. This could be troubling to newsies–like the GUARDIAN–who profess to be free thinkers and not affiliated with any party: exercise your right to vote and get branded as a liberal or conservative.
The STATESMAN's Cynthia Sewell did a nice piece today last week which offers some tips. She also explored the background with Rich in the SUNDAY paper.
The good news is it's just a primary election and there will not be any confusion in November when there is no party declaration. Of course from a practical standpoint MOST of the Republicans who are elected at the upcoming May 15 primary will be sure fire winners in November.
ADA ELECTIONS website has all the info you need, including a way to find your polling place by entering your address.