County
Dynamis "Hot Potato" Probe Lands At Boise PD
The "hot potato" investigation of the Ada Commishes and Dynamis which no one wants to handle has finally landed in the lap of the Boise Police.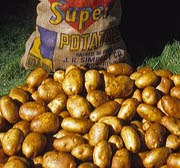 The inquiry was begun when a CITIZENS GROUP wrote letters to the County, State, and Federal prosecutors demanding action
The GUARDIAN started getting tips during the past week saying the Bannock County prosecutor was having trouble getting the investigation underway into alleged open meeting violations by Ada Commishes over the handling of the proposed trash to energy project and contract with Dynamis Energy at the county landfill.
Ada Prosecutor Greg Bower has an obvious conflict since he represents the Commishes as legal council. The Attorney General staff didn't want it because a deputy lived near the landfill and had DISCUSSED THE ISSUE with neighbors, so they tossed the hot potato over to Bannock County Prosecutor Mark Heideman.
GUARDIAN sources say Heideman attempted to enlist the aid of the Bannock Sheriff, but one of his staffer's relatives had a relationship of some sort with Dynamis, so he flipped it back to Ada Sheriff Gary Raney. Raney of course is beholding to the Ada Commishes for his budget, so he got together with Boise PD where the hot potato finally landed.
We hear the investigation will look into the open meeting issue, but further details of what will be undertaken are still not clear. Heideman has told the GUARDIAN he will review the report from the Boise PD detective and offer his recommendations. While there is no time line, the Bannock Prosecutor estimated the investigation would be complete within a few months.
Our trusted sources say both the BPD detective and the Bannock Prosecutor are "straight shooters" and should be trusted to offer impartial facts and evaluations.
Our fear has been the hot potato will get mashed by limiting the probe to just the open meeting violation. With $2 million being loaned to Dynamis by Ada County and the deal being signed with no bids or public hearings, The GUARDIAN suggests an Idaho baker with sour cream, chives, and butter would be a more appropriate approach with a large order of fries on the side.