ACHD
Candidates Warned Of ACHD Sign Law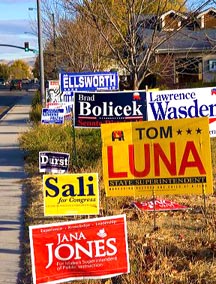 Ada County residents have endured nearly two months of polluted smokey air, now we have POLITICAL SIGN SEASON!
Ada County Highway District has offered political candidates free use of the public right of way for political advertising signs–BUT WITH CONDITIONS.
An ACHD spokesman turned down an offer by the GUARDIAN to organize "volunteer sign law deputies," to discourage illegal sign displays by politicos and their followers. He said something about not needing vigilantes and encouraged complaints be filed with the ACHD at 387-6110. ALL of the signs in the photo would be illegal under the new law because they are within 6 feet of the curb.
It will be interesting to see if ACHD actually enforces the ordinance or relies on the integrity of politicians to not violate the law.
Here is the text of the letter sent to candidates by Director Bruce S. Wong
Dear Candidate:
I would like to inform you of new rules regarding the placement of political signs along Ada County roadways as we head into the November 6, 2012 General Election. The Ada County Highway District Commission has adopted an ordinance regulating signs that we hope will make it easier for you to know where to place your signs while also ensuring that safety is maintained for motorists, pedestrians and cyclists.
You are welcomed and encouraged to place your signs where they will do you the most good – as long as they are far enough back from the roadside or intersection to avoid creating a sight obstruction. As of September 19, 2012, ACHD's new ordinance will come into full legal effect. Provisions of the ordinance include:

–No sign placement can create a visual barrier for drivers, pedestrian or cyclists trying to navigate the roads

–Signs must be placed outside of the vision triangle, a space 40 feet back from the point in the intersection where the curb lines or the edge of pavement on roads without curbs would meet near the center of the intersection.
–Signs must be placed no closer than 6 feet behind the back of the curb or 12 from the edge of pavement on roads without curbs

–No sign can be placed in roadway landscaping areas, including in medians, in roundabouts or within the parking strips between the curb and the sidewalk.

–No flashing lights or effects, which could create a hazardous distraction, are allowed.

–No signs can be placed on signal poles, on traffic signs or on any other piece of public road infrastructure.

–Signs must be removed within 48 hours of the election.
The ordinance includes a number of other provisions governing ACHD enforcement authority to remove signs creating hazards and recouping the costs for enforcement (please see the attached section of ACHD Code). Signs found in violation of this ordinance may be removed by ACHD personnel and can be recovered at headquarters, 3775 Adams St., unless they are damaged or lost.
As I hope you can appreciate, our goal here is compliance and maintaining roadway safety during the campaign season. We hope this packet makes it easier for you to locate safe and efficient places to locate your signs and wish you well in the campaign.
If you have any question regarding this information, please do not hesitate to call me at 387-6110. Thanks for your willingness to serve and for your shared commitment to safety.
Sincerely,
Bruce S. Wong,
ACHD Director