Constitution
Former Director Opposes F&G Ballot Amendment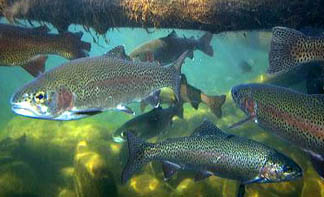 HJR 2, the proposed constitutional amendment to "insure hunting, fishing and trapping rights," has language buried within which could potentially eliminate minimum water levels aimed at protecting Idaho fish.
"Shall Article I, of the Constitution of the State of Idaho be amended by the addition of a New Section 23, to provide that the rights to hunt, fish and trap, including by the use of traditional methods, are a valued part of the heritage of the State of Idaho and shall forever be preserved for the people and managed through the laws, rules and proclamations that preserve the future of hunting, fishing and trapping; to provide that public hunting, fishing and trapping of wildlife shall be a preferred means of managing wildlife; and to provide that the rights set forth do not create a right to trespass on private property, SHALL NOT AFFECT RIGHTS TO DIVERT, APPROPRIATE AND USE WATER, OR ESTABLISH ANY MINIMUM AMOUNT OF WATER IN ANY WATER BODY, shall not lead to a diminution of other private rights, and shall not prevent the suspension or revocation, pursuant to statute enacted by the Legislature, of an individual's hunting, fishing or trapping license?"
The GUARDIAN talked with retired Idaho Fish and Game Director Steve Huffaker about the proposed Hunting Fishing and Trapping amendment.
"There's a heck of a lot of daylight between existing stream flow policy or legislation and a constitutional prohibition," said Huffaker. "I see no valid reason to amend the constitution. We opposed similar attempts for 10 years and now they have inserted the water language which is certainly not good news for fish."
In a nutshell, Huffaker said the net affect of the amendment would be to cast doubt on existing policies and open a potential loophole that could eliminate minimum streamflows and reservoir levels–conservation practices designed to protect Idaho fisheries during low water years. Say all you want about rights to fish, but without water the fish are gone.
We made several inquiries with state agencies and found staffers were gunshy about commenting. However Attorney General Lawrence Wasden's office provided us with an OPINION requested last February by Senator Elliot Werk. The response was a bit murky, but the AG claimed the amendment language would not prohibit the legislature from establishing minimum stream flows or water levels.
Legislative observers told the GUARDIAN prohibition of minimum water levels was inserted to garner support of irrigators and other water users.
Idaho Fish and Game has "no position" on the measure, but the Commission which governs the agency came out with a
"strongly" supporting passage.
UPDATE 10/28/12–
DAILY PAPER reporter Rocky Barker weighed in with a report from others concerned with the amendment.