ACHD
ACHD Spending Shifts Back To Boise
After years of spending in newly developed areas in the western part of the county, Ada County Highway District officials released data Friday showing Boise will get more dollars.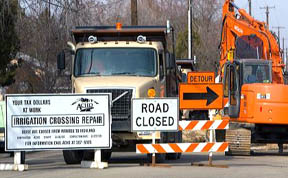 Fast-growing cities in western Ada County continue to get a larger share of roadway spending, according to the Ada County Highway District's latest spending-and-revenue report released Friday.
But the trend is about to turn: Boise, which has slightly more than half of the county's population, stands to get $6 of every $10 ACHD expects to spend on construction through 2020, the study shows.
The third edition of the analysis tracks the revenue collections and spending within local government boundaries from 2001 through 2012 and is based on ACHD's annual – and audited – spending reports filed with the State of Idaho. The study encompasses $814 million in spending, and follows up on the first report issued in early 2011.
"During the recession, most of the growth we've had has been on the west side," said Sara Baker, president of the ACHD Commission. "But things are now turning around. Starting this year, Boise City will receive the lion's share of the spending as we address some long-standing needs."
One of those is the 30th Street Extension, a project that broke ground on Wednesday and will be completed in October. The new road will connect State Street to Fairview Avenue, offering a quicker option for getting to downtown Boise and completing a vision for the area dating back to the 1960s. The road, which will cost an estimated $4.5 million to construct and $9.1 million in total, helps fulfill a Boise City aim to revitalize the western edge of the city center.

Since ACHD responds to actual and projected growth, Meridian, Eagle, Kuna, Star and Garden City have often received more in total projects and services than the citizens of those municipalities have contributed to the countywide highway system in recent years, according to the spending report.

The amount of impact fees generated by each jurisdiction demonstrates the trend. Over the 12-year-span, Meridian consistently brought in the most fee revenue in the county, as shown by the 2013 analysis. While the city has 20 percent of the county's total population, it generated 41 percent of the fee revenue in 2012 and has produced the most of any jurisdiction since 2001.
Because impact fees are tied to building permits, they point directly to where the growth is greatest, said Bruce Wong, ACHD's director.
"The numbers speak for themselves – over the past decade the growth hot spots have been on the west side," Wong said. "But going forward, we see more of the development activity, and projects, flowing back to Boise and the east side of the county."