Law Enforcement
ISP Lt. Colonel "Sprouts Wings"
Lieutenant Colonel Ralph Powell has sprouted wings as the new "Bird Colonel" for the Idaho State Police.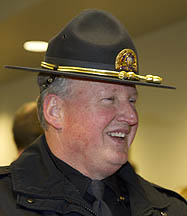 The promotion by Gov. Butch Otter puts the career trooper/bird colonel at the top of the pecking order for ISP where he has served throughout Idaho including posts in Boise, Coeur d'Alene and eastern Idaho. Most recently he has been at the Meridian headquarters as the #2 for Jerry Russell who retired earlier this year.
We haven't seen any media play for the new top copper, but wish him well with the men in blue. ISP handles road patrol, brand inspectors, liquor enforcement, crime lab services for any law enforcement agency in the state as well as criminal investigations and more.