Environment
A Matter Of Taste: Geese From Canada, Not Italy
Hoping the geese which have become pests at local parks are purebred Canada geese and not of Italian descent, tests are underway at Sandy Point below Lucky Peak to see if garlic spray works to deter geese at the swimming area.


Following a tip from reader Dave Ellis of Homedale, the GUARDIAN cut a deal with a California pest repellant manufacturer to test a spray of 99% pure garlic extract which is supposed to chase off everything from mosquitoes to armadillos. We gave the concentrate to the Idaho State Park at Lucky Peak where geese have been a persistent problem.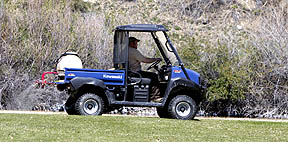 The grassy area near the concession stand has been a favorite for the geese and it was treated Wednesday with the garlic oil mixture. If you care to offer any observations or pictures in the next few weeks, we will report the results. Meanwhile Boise Parks will be monitoring the results of the State Park experiment as well as the Idaho Fish and Game Dept.