ACHD
Boise Has No Authority For Trolley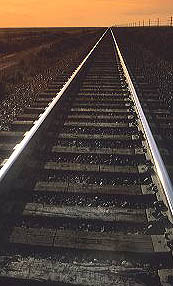 Looks like that pesky IDAHO CONSTITUTION has gotten in the way of Team Dave once again. Mayor Dave Bieter is set to ask the City Council Tuesday for funds for yet another street car, trolley study.
What he should be doing is sucking up to the ACHD Commishes because that group holds ALL the cards in this poker game. The big ace is the Idaho Constitution Article XI, sec. 11.
ARTICLE XI, Section 11. CONSTRUCTING RAILROAD IN CITY OR TOWN. No street, or other railroad, shall be constructed within any city, town, or incorporated village without the consent of the local authorities having the control of the street or highway proposed to be occupied by such street or other railroad.
We have written countless stories about Boise's "Trolley Folly" which Team Dave declared was a "street car" and the GUARDIAN promptly labeled it "Desire named Street Car." Any way you cut the deck, the City holds a losing hand.
Mayor Dave Bieter and crew has rung this bell too often. They spent thousands of taxpayer dollars on studies, promotions, open houses, surveys and EACH TIME citizens have been opposed or luke warm at best. Sure, he can study anything he wishes, but with no authority to ever build on or in our ACHD streets, such expenditures are ill advised.
Now he is asking the City Council for $437,500 to fund an analysis of a possible downtown Boise circulator system. About $375,000—would come from a Federal Transit Authority grant solicited by Senior Senator (SenSen) Mike Crapo who professes to be a fiscal conservative. The additional $125,500 would be picked up by the city of Boise and the Capital City Development Corporation, the city's urban renewal agency–which also has no control over streets. Clearly, the dealer has the advantage and the dealer is ACHD.
For what they want to spend–including a possible circulator at BSU–we could improve the pathetic bus system. We have suggested repeatedly the city needs a decent bus system prior to planting iron rails in the streets controlled by the Ada County Highway District.
Read more for a view on a street car system already analyzed: STREET CAR FANTASY