ACHD
Transit Center Derailed Before First Spade Of Dirt Is Turned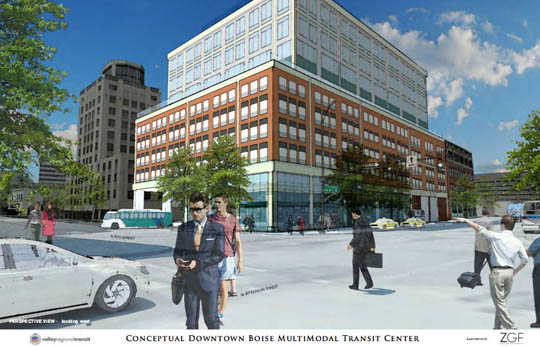 Valley Regional Transit has joined the ranks of Team Dave when it comes to getting the proverbial cart before the horse.
VRT is sending out press releases saying the agency is moving forward on a downtown "Multi-Modal Transit Center" and solicits a private partner on the project. All this despite the owner of the land–Idaho Endowment Board–telling them the proposed project is NOT approved on the land.
The VRT folks were sent a letter May 1 from Idaho State Lands Dept. informing the local agency, "Idaho Dept. of Lands (IDL) will not be accepting the Application for Use of State Lands submitted by Valley Regional Transit for the endowment-owned parking lot at 8th and Jefferson Streets in downtown Boise."
Director Thomas Shultz, Jr. told VRT's Kelli Fairless that "IDL has heard from numerous members of the Boise business community and Idaho's legislative and executive branches." Shultz went on to say in the May 1 letter the feedback regarding a transit center across from the Capitol Building claimed the use would negatively swell traffic congestion, diminish safety, and harm the historic character of the block.
The GUARDIAN posted a TROLLEY STORY Monday citing the Idaho Constitution mandate that any trolley or street car using streets or highways had to be approved by the Ada County Highway District.
So, Boise City has failed to get approval from ACHD to use the streets and Valley Regional Transit has made building plans, but has no permission to use the land. Not only has the trolley been derailed before it leaves the station, the station hasn't gotten permission to build.
The GUARDIAN called the number on the press release, but a recording said the Public Relations guy would be out of the office until December 26! Either a long leave of absence or not many media calls for VRT.
UPDATE 5/6/13
The VRT Executive Board met in executive session Monday. No action or vote was taken during the executive session. Here is their statement:
"The VRT Executive board supports the project and believes that if the Land Board can see the benefits, they would agree with the value of such a project, including creating jobs during construction, adding parking, and making it easier and more convenient to use the ValleyRide bus system."
Also, the PR guy updated his voice mail.