City Government
Cop Cars: How Many How Much?
OPEN LETTER TO THE BOISE MAYOR AND COUNCIL
Dear Mayor and Council,
With the Boise City budget pending final approval and police union negotiations approaching, we thought it was a public benefit to check on the Boise Police vehicle fleet and the "take home car" policy. The police budget accounts for 34% of the entire city budget–the biggest chunk by far.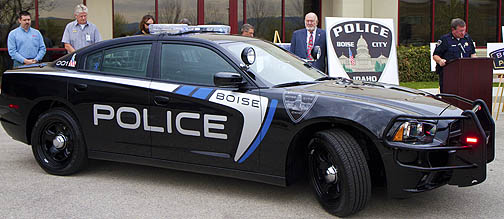 Obviously the council has not asked nor been informed about the cost of vehicles and the take home policy. When the GUARDIAN made a request for the following information it took the Boise PD five hours and a fee of $60.54 to gather. (We were charged for 3 hours labor and the first 2 hours were supposedly free).
WE ASKED:
–The total number of vehicles owned, leased, rented or otherwise publicly funded in the Boise Police fleet, inventory, motor pool, or control.
–A breakdown of the number of "marked" vehicles and the number of "unmarked" vehicles.
–A breakdown by division or job description of the number of "take home" vehicles. This would include, but not be limited to command staff, civilian staff, detectives, k-9, SWAT, SRO…any vehicles, including motorcycles, routinely allowed to be driven to and from duty.
Also, please provide a typical recent cost for the following:
–Marked patrol unit with radio, emergency lights, etc.
–Range of cost for unmarked cars from Ford Focus to large SUV
For the record NO FIRST RESPONDERS drive city vehicles to and from work. Emergency responses are handled by on-duty uniformed staff and supervisors. While there are legitimate reasons for officers to drive city vehicles to and from work, we think it is unreasonable to claim 123 people are so vital to the mission they need to have a car–usually unmarked–to drive back and forth to work.
School resource officers report directly to their assigned duty stations at schools and a stop at the motor pool obviously would be inefficient. However, some cars are driven many miles outside the city and the take home status is simply a taxpayer funded perk.
Spokesperson Lynn Hightower drives a city car to and from work daily and pays about $100 a month because she is not a "sworn officer." We would venture to guess the value of a car, insurance, maintenance, etc. is worth significantly more than $1200 a year.
Here is the $60.54 response from the police:

–Number of vehicles, 282 total with 124 unmarked and 158 marked.
–Take home cars total 123 (airport canine 4, Criminal investigation detectives 48, canine patrol 6, command staff 14, community outreach 51).
–Cost of marked unit $36,208 for V-8 and $35,274 for V-6.
–Unmarked cars cost from $21,184 to $26,481.

It would no doubt be a good idea to look at the rest of the city fleet and examine the take home policies of Parks, Public Works, Fire, and other departments, but since it is so expensive to get information to the council, we were hoping YOU could ask the questions and not be charged for the answers.
Thanks for your consideration,
DAVID R. FRAZIER, editor
BOISEGUARDIAN.COM