City Government
Wanna Be A Politico? Here Are Boise Rules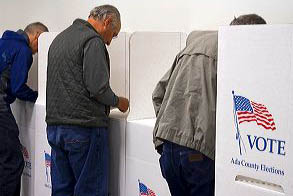 The GUARDIAN has obtained the candidate filing rules for the Boise City Council election set for Nov. 5 on the off chance anyone cares enough to run against the three incumbents. We find it ironic that 53 people applied for an appointment to Vern Bisterfeldt's vacant seat, but no one will run for election.
–When is the first day and last day of filing?
The Candidate Filing period opens at 8 a.m. on August 26, 2013 and closes September 6, 2013 at 5 p.m.
–When is election day.
Election Day is November 5, 2013
–How many signatures required on nominating petition.
5 qualified electors who reside within the city limits of Boise. These must be verified by the Ada County Elections Office prior to submitting to the City Clerk's Office. A candidate may pay a $40 non-refundable filing fee in place of the Nominating Petition.
–Where can a candidate get petition and where do they file.
A candidate can obtain the Declaration of Candidacy from either the City Clerk's Office or the Ada County Elections Office. They must file the Declaration of Candidacy with the City Clerk's Office, located at 150 N. Capitol Blvd, between 8 a.m. and 5 p.m. Monday through Friday, August 26 through September 6, 2013.
If you have any additional questions regarding this topic or any other issues, please don't hesitate to contact the Deputy City Clerk Jamie Heinzerling via e-mail at jheinzerling@cityofboise.org or call her at 384-3701.