Constitution
"Mr. Everyman" Pens Note To Congressman Simpson Et Al
The following letter was actually sent to Idaho Congressman Mike Simpson and should be read by the entire Congress. The author has requested anonymity, but is well known to the GUARDIAN and soon, no doubt, to Congressman Simpson. The GUARDIAN felt it brilliantly expresses the sentiments of many frustrated Americans.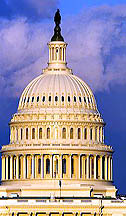 Dear Congressman Simpson,
I am very disappointed and, quite frankly, disgusted, at yesterday's vote bundling the debt ceiling issue with the Affordable Care Act. The legislation is problematic on many levels, but most importantly, the two issues are not related! I have always been dismayed by the practice of riders, attachments, and/or jamming two or more totally unrelated issues together into one piece of legislation for nothing more than political gamesmanship. That is exactly what happened yesterday. I want this practice stopped, by both parties.
Since your party chose to tack on a delay of the Affordable Care Act, with the government's funding issue, let me start with the ACA first. It is the law of the land. The major components of it have been affirmed by the Supreme Court of the U.S. You guys lost; end of story. I want you and your colleagues to stop this obstructionist nonsense and get back to work for the American people. The ACA health exchanges are in place to open shop next Tuesday. Now is certainly not the time to try to derail it. Congress has attempted dozens of times to kill the program and have been rebuffed each time. You don't get it. Give it up and get back to business. There are components of the act that I don't like, but it is a start and I am willing to give it a shot to see how it works. If it flops, or has problems, that will be the time to repeal or fix it, not 3 days before it is set to begin. America wants and deserves quality, affordable healthcare for all, and while the ACA is by no means perfect, it is at least a move in the right direction after decades of inactivity from Congress. Let it happen and we'll go from there.
On the unrelated topic of the debt ceiling, I'd rather not see the government shut down on October 1st, but if that's what it takes for Congress to buck up, shut up, and fix this problem once and for all, then so be it. This can has been kicked down the road too many times. We deserve better action from our lawmakers, not continued political posturing and obstructionism. Your party in particular, wants government to be reined in, budgets cut, taxes lowered. I could not agree more. Let's start with the two largest budget drainers: Defense and entitlements.
The amount of money we throw at the military is absolutely obscene and completely out of control. The Department of Defense is way past due for a complete makeover. Creative minds might consider combining some branches of our military, and more thoroughly reviewing assistance pacts we make with other countries. It is time to stop being the world's big brother and protector. Protect and defend our borders and our citizens; that is all we need to be doing.
My definition of "entitlements" may certainly be different than yours, but please allow this constituent to be heard. Americans' health, education and welfare should be the number one priority of our government. Social Security is a promise to our citizenry that was made long ago. It was the right thing to do and should not be reneged on now. I believe most Americans are very much opposed to severe modification of the program.
I believe the same about Medicare and Medicaid. We must take care of our own, first. Regarding welfare programs, again, we must take care of our citizens, but I have always supported the notion of public service for public assistance. That is certainly a hot-button topic, but it needs to be more fully explored and not ignored. While I prefer that Social Security, Medicare and other welfare programs be continued without major changes, I believe that compromises from both parties can result in the continued success and fiscal health of these programs. There are numerous other entitlement programs that need to be looked at for cost saving or outright deletion, such as non-humanitarian foreign assistance programs, farm subsidies, and others. With some hard, careful thought and compromise, I think you actually can squeeze some blood from this turnip. I'd like you and your compatriots to try.
Finally; one other item was injected into the legislation that I believe is wrong. If the government does shut down, why should military pay be exempted? This is simply not fair to other government employees. I might have a different view of this if military service was mandatory, but it hasn't been for decades. The men and women in our military are there by choice, just like the rangers at our national parks, or anyone else that chose the government as a career.
Mr. Simpson, I have always admired you for your independent, common sense approach, however, the last year or two, I've become increasingly disturbed by what I feel is a slide by you toward the drumbeat of the unmovable, uncompromising wing of the Republican machine. I respectfully request that you return to the cadence of your constituency, your own conscience, and not march to the beat of Mr. Boehner's drum and the other extremist and obstructionist factions of your party.
Thank you for your consideration and please get to work.
Mr. John B. Everyman