City Government
"Buck-A-Month" Sales Pitch Ignores $51 Million Debt and $18 Million Interest For Boise Bond
Gotta hand it to Team Dave on the sales campaign for the proposed debt question before voters in November. The NorthEnders have been mobilized and the council candidates have all avoided the issue in a joint campaign brochure. Even the DAILY PAPER editorial has offered an endorsement while addressing–almost point by point–the GUARDIAN concerns.
We have to note that debt has currently brought the USA to its knees and cities like Detroit are mired so deep in debt survival is in question.
The City of Boise currently has no debt.  That means for each $1 spent, we theoretically get a $1 value.  If the $ 33 million total bond package is approved Nov. 5, it will put taxpayers on the hook for $51,000,000 to be paid over a 20 year period.
That means we will pay $18,000,000 for interest and get absolutely nothing tangible in return for the two measures.
#1 FIRE
The city has built several new fire stations in the past 10 years funded by annual revenues to serve new developments and annexation.  They have also collected "impact fees."  Now they claim existing stations are in disrepair and have outlived their useful life.  Not good management to build new structures while ignoring existing assets. Sorta like buying a new car because you didn't change the oil in the old one.


Boise Fire Dept. recently entered into some "mutual aid" cooperative agreements with other Ada County departments like Meridian and Eagle.  Those agreements should be backed up with mutual training.  Any fire training academy should be funded by all the departments in the county, not just on the backs of Boise property owners.
In general the fire bond ballot language is simply too vague with no specific locations, costs of individual stations, or repairs.  The City Council also bypassed its own laws to avoid the required three readings at council meetings. Oh sure, they have "plans," but nothing in the ballot proposal forces them to abide by what they propose in the sales pitch.
#2 PARKS/OPEN SPACE
Boise has annexed hundreds of acres in the southwest part of the city, collected "impact fees" for parks and refused to provide parks to the annexed citizens.  Now they seek debt approval to pay for the promised parks.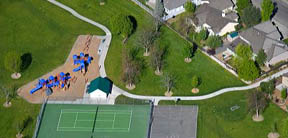 Open space has been sought and acquired exclusively in the Foothills.  There are many areas south of the Boise River and in southwest Boise worthy of preservation.  Before entering into 20 years of debt for  vague "open space" citizens should be provided more specific obligations if the bond is passed, to preclude purchases like Stack Rock in Boise county and acting as the banker for the Idaho Fish and Game Dept. on the Hammer Flat purchase and resale.
Annual appropriations for specific projects through two year "serial levies" are cheaper, wiser, and easier to pass than $51,000,000 in debt and tossing $18,000,000 to the wind for interest. The down side is higher taxes for, but only for two years.
READ THE BALLOT—

CITY OF BOISE
Ordinance NO. ORD-38-13
BY THE COUNCIL CLEGG , EBERLE, JORDAN, MCLEAN,
QUINTANA, AND THOMSON
AN ORDINANCE CALLING A GENERAL OBLIGATION BOND ELECTION TO BE HELD FOR THE PURPOSE OF SUBMITTING TO THE QUALIFIED ELECTORS OF THE CITY OF BOISE CITY, IDAHO, TWO PROPOSITIONS FOR THE ISSUANCE OF NEGOTIABLE GENERAL OBLIGATION BONDS OF THE CITY OF BOISE CITY, IDAHO; DETERMINING THAT THE TOTAL AMOUNT OF BONDED INDEBTEDNESS OF THE CITY WILL NOT EXCEED TWO PERCENT (2%) OF MARKET VALUE OF TAXABLE PROPERTY; DIRECTING THE CITY CLERK TO NOTIFY THE COUNTY CLERK THAT THE MAYOR AND CITY COUNCIL CALLED THE BOND ELECTION; APPROVING THE FORM OF BALLOT; APPROVING THE NOTICE OF GENERAL OBLIGATION BOND ELECTION; PROVIDING FOR THE ISSUANCE OF SUCH BONDS AND THE LEVY OF A TAX TO PAY SUCH BONDS; ORDERING PUBLICATION; APPROVING A SUMMARY; PROVIDING FOR A WAIVER OF THE READING RULES; AND PROVIDING AN EFFECTIVE DATE.
WHEREAS, certain improvements throughout the city of Boise City, Idaho (the "City"), are deemed by the members of the Council of the City (the "Council") to be required for the public good and welfare of the City; and
WHEREAS, the Council has determined and hereby deems it is necessary and advisable to finance certain capital improvements in the City, including for (i) the purposes of constructing and equipping a new fire training facility to meet minimum national standards, improving existing fire stations, constructing and equipping new fire stations to reduce emergency response service gaps and to enhance neighborhood safety, together with all necessary appurtenant facilities and equipment, pursuant to Sections 50-1019(6) and 50-1019(9), Idaho Code (the "Fire Protection Facilities"), and (ii) the purposes of protecting clean water, critical open space, natural areas, and wildlife habitat, and enhancing recreation through the purchase of open spaces such as the Boise Foothills, and expanding and improving the City's neighborhood parks system, pursuant to Section 50-1019(4), Idaho Code (the "Open Space and Parks Improvements Project," and together with the Fire Protection Facilities, the "Projects");
WHEREAS, the City deems it necessary and advisable to issue general obligation bonds of the City in the amount of up to $32,915,000, pursuant to the provisions of Sections 50-1019 and 50-1026, Idaho Code, and chapter 2, Title 57, Idaho Code, to finance the Projects, and in order to do so desires to call an election to be held pursuant to chapter 14, Title 34, Idaho Code, for electorate authorization of issuing bonds to finance each of the Projects;
NOW, THEREFORE, BE IT ORDAINED BY THE MAYOR AND COUNCIL OF CITY OF BOISE
THE CITY OF BOISE CITY, IDAHO:
Section 1. That a general obligation bond election (the "Bond Election") is hereby called to be held in the City on Tuesday, November 5, 2013, for the purpose of submitting to the qualified electors of the City the two propositions set forth in the forms of ballot hereinafter provided.
Section 2. That the City hereby determines that the outstanding amount of all bonded indebtedness of the City, including the bonds proposed under this Ordinance, will not exceed two percent (2%) of the market value for assessment purposes of all taxable property within the City on the tax rolls completed and available as of the date of the Bond Election.
Section 3. That pursuant to Section 34-1401, Idaho Code, the Clerk of Ada County, Idaho (the "County Clerk") shall administer the Bond Election, including scheduling the polling times; preparing and printing the ballots; publishing the notice of the Bond Election and the sample ballot for each proposition; and conducting the Bond Election.
Section 4. That in compliance with Section 34-1406, Idaho Code, the Clerk of the City (the "City Clerk") shall notify the County Clerk that the Mayor and Council have called the Bond Election on behalf of the City by delivering to the County Clerk a copy of this Ordinance, including the forms of the ballot and notice of the Bond Election, as provided under Section 5 and Section 6 hereof.
Section 5. For purposes of the Bond Election, the Council hereby approves the form of ballot as set forth below:
***FORM OF BALLOT***
INSTRUCTIONS TO VOTERS:
To vote, fill in the oval () to the left of the words "YES. I vote IN FAVOR OF" or "NO. I vote AGAINST" according to the way you desire to vote on the questions. If you make a mistake, request a new ballot from an election worker.
Shall the city of Boise City, Idaho, be authorized to issue and sell general obligation bonds for the following purposes:
To construct and equip a new fire training facility to meet minimum national standards, improve existing fire stations, as well as construct and equip new fire stations to reduce emergency response service gaps and to enhance neighborhood safety;
To protect clean water, critical open space, natural areas, and wildlife habitat, enhance recreation through the purchase of open spaces such as the Boise Foothills, and expand and improve the City's neighborhood parks system. CITY OF BOISE
One hundred percent (100%) of bond proceeds will be used for the specified purposes as verified by annual independent audits. Repair and construction projects will incorporate energy, water, and other conservation measures.
The bonds are due in installments as fixed by the Mayor and Council of the City, the last installment to be due and payable not more than (20) years from the date of the bonds, as provided in Ordinance No. _____ adopted by the Council of the City on September 10, 2013.
QUESTION #1 – FIRE SAFETY
 YES. I vote IN FAVOR OF authorizing $15,710,000 in bonds for fire safety as stated in Ordinance #___.
 NO. I vote AGAINST authorizing $15,710,000 in bonds for fire safety as stated in Ordinance #___.
QUESTION #2 – OPEN SPACE AND PARKS
 YES. I vote IN FAVOR OF authorizing $17,205,000 in bonds for open space and parks as stated in Ordinance #___.
 NO. I vote AGAINST authorizing $17,205,000 in bonds for open space and parks as stated in Ordinance #___.
The following statements are required by Sections 34-439 and 34-439A, Idaho Code:
The projects to be financed by the sale of the proposed bonds are as set forth in the above Questions 1 and 2. The date of the bond election is November 5, 2013. The anticipated interest rate on the proposed bonds, based upon current market rates, is 4.61% per annum.
As to Question 1, above, the total amount to be repaid not later than twenty (20) years from the date of such bonds based on the anticipated interest rate is $24,454,832, consisting of $15,710,000 in principal and $8,744,832 of interest. The estimated annual amount to be collected each year from the proposed levy under Question 1 is $1,222,766.
As to Question 2, above, the total amount to be repaid not later than twenty (20) years from the date of such bonds based on the anticipated interest rate is $26,781,435, consisting of $17,205,000 in principal and $9,576,435 of interest. The estimated annual amount to be collected each year from the proposed levy under Question 2 is $1,339,047.
As to Questions 1 and 2 combined, the total amount to be repaid not later than twenty (20) years from the date of such bonds based on the anticipated interest rate is $51,236,267, consisting of $32,915,000 in principal and $18,321,267 of interest. The amount estimated to be collected each year from the levy for such bond issues is $2,561,813.
As of November 5, 2013, the total existing bonded indebtedness of the City, including interest accrued, CITY OF BOISE
is $0.
***End of Form of Ballot***
Section 6. For purposes of the Bond Election, the Notice of Bond Election shall be substantially in the following form:
***FORM OF NOTICE OF GENERAL OBLIGATION BOND ELECTION***
NOTICE OF GENERAL OBLIGATION BOND ELECTION
Pursuant to the laws of the State of Idaho and Ordinance No. ____ of the Mayor and Council of the city of Boise City, Idaho (the "City"), adopted on September 10, 2013, notice is hereby given that a General Obligation Bond Election will be held in the City on Tuesday, November 5, 2013, beginning at the hour of 8:00 A.M. and closing at the hour of 8:00 P.M., for the questions of whether the City shall be authorized to issue and sell general obligation bonds for the following purposes:
Question 1: To construct and equip a new fire training facility to meet minimum national standards, improve existing fire stations, as well as construct and equip new fire stations to reduce emergency response service gaps and to enhance neighborhood safety;
Question 2: To protect clean water, critical open space, natural areas, and wildlife habitat, enhance recreation through the purchase of open spaces such as the Boise Foothills, and expand and improve the City's neighborhood parks system.
One hundred percent (100%) of bond proceeds will be used for the specified purposes as verified by annual independent audits. Repair and construction projects will incorporate energy, water, and other conservation measures.
The bonds shall be due in installments as fixed by the Mayor and Council of the City, the last installment to be due and payable not more than (20) years from the date of the bonds, as provided in Ordinance No. _____ adopted by the Council of the City on September 10, 2013.
The following statements are required by Sections 34-439 and 34-439A, Idaho Code:
The projects to be financed by the sale of the proposed bonds are as set forth in the above Questions 1 and 2. The date of the bond election is November 5, 2013. The anticipated interest rate on the proposed bonds, based upon current market rates, is 4.61% per annum.
As to Question 1, above, the total amount to be repaid not later than twenty (20) years from the date of such bonds based on the anticipated interest rate is $24,454,832, consisting of $15,710,000 in principal and $8,744,832 of interest. The estimated annual amount to be collected each year from the proposed levy under Question 1 is $1,222,766.
As to Question 2, above, the total amount to be repaid not later than twenty (20) years CITY OF BOISE
from the date of such bonds based on the anticipated interest rate is $26,781,435, consisting of $17,205,000 in principal and $9,576,435 of interest. The estimated annual amount to be collected each year from the proposed levy under Question 2 is $1,339,047.
As to Questions 1 and 2 combined, the total amount to be repaid not later than twenty (20) years from the date of such bonds based on the anticipated interest rate is $51,236,267, consisting of $32,915,000 in principal and $18,321,267 of interest. The amount estimated to be collected each year from the levy for such bond issues is $2,561,813.
As of November 5, 2013, the total existing bonded indebtedness of the City, including interest accrued, is $0.
***End Form of Notice of General Obligation Bond Election***
Section 7. That if at the Bond Election two-thirds (2/3) of the qualified registered electors of the City, eighteen (18) years of age or older who have resided in the City for thirty (30) days, voting thereat assent to the issuance of said bonds under one or both of the propositions, as certified by the County Clerk, the respective negotiable bonds of the City shall be issued as hereinabove provided and shall mature not more than up to twenty (20) years from their date and the annual bond maturities thereof shall be payable in accordance with the provisions of the Idaho Municipal Bond Act. Such issue or issues will create new debt for the object of providing for the acquisition and construction of one or both Projects, and to pay the costs of issuance of such bonds, in accordance with the provisions of Section 50-1026, Idaho Code, payable from the proceeds of taxes and other available sources.
Section 8. That said negotiable general obligation bonds shall be issued if carried as aforesaid and payment shall be made from available sources of revenue and through the levy of taxes in the City, beginning in the year principal and interest payments are due and continuing until principal and interest shall have been fully paid in such amounts and at such rates as are necessary to assure the prompt payment of such interest, and also to establish and to constitute a sinking fund sufficient for the payment of the principal thereof as required by law, and it is hereby ordered that such taxes shall be levied annually at the time and in the manner as general taxes for the City are levied in each such year; provided, however, the aforementioned taxes shall never be diminished prior to payment of all bonds excepting in any year to the extent that other available funds shall have been applied to or set aside in a special fund to be irrevocably held for the payment of principal or interest or both, payable from said taxes for such year. The proper officer or officers of the City are hereby authorized and directed to do all things requisite and necessary to carry out the provisions of this section and to apply the proceeds of the taxes so collected to the payment of such principal and interest.
Section 9. That, pursuant to the provisions of Sections 50-901 and 50-901A, Idaho Code, as amended, this Ordinance, or a summary thereof, shall be published within one (1) month hereafter in an issue of The Idaho Statesman, the official newspaper of the City.
Section 10. That the summary of this Ordinance, which is attached hereto as Exhibit A, be, and the same is, approved as to both form and content. CITY OF BOISE
Section 11. That, pursuant to the affirmative vote of one-half (1/2) plus one (1) of the members of the full Council, the rule requiring two (2) separate readings by title and one (1) reading in full be, and the same is hereby, dispensed with, and accordingly, this Ordinance shall be in full force and effect immediately upon its passage, approval, and publication