City Government
Boise Lady Copper Big Hit On You Tube
A female Boise PD sergeant is a big hit on YOU TUBE,
but the national and international publicity isn't the type the city wants or needs.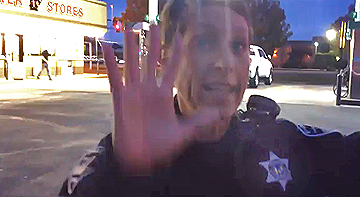 In the approximately 15 minute clip the copper, identified as "Sergeant Lori Sperry," walks right into the typical baiting by the video guy calling himself Gavin Seim. While conducting a traffic stop on another vehicle, she approaches the pedestrian/videographer in the Cabela's parking lot asking, "Can I help?" He comes back with, "no, I am just observing."
The confrontation–initiated by the copper–degenerates into commands to "take your hand out of your pocket," a half hearted grab at his arm, and then she walks away. If she feared he might have had a weapon, she never conducted a pat down, ignored the driver she stopped, and never got the I.D. she demanded.
Even after walking away to the traffic stop when a back up arrived, she returned to have more contentious words (argue) with the video guy. Boise coppers are trained to allow citizens to take photos in public and are aware of the "video hit" folks. The incident doesn't reach the level of "policy violation," but it wasn't a proud moment for Boise's finest.
We welcome any factual discussions and would love to hear her audio belt recording of the incident. Suffice it to say no new friends were made.
The incident didn't go unnoticed at the BPD command offices. Here is an official statement from Chief Mike Masterson:
"The Boise Police Department recognizes maintaining the highest levels of professionalism and integrity are essential to maintaining the public confidence necessary for public and officer safety.   As a Department, we take the behavior of our officers and how they treat the public very seriously. We are aware of the video taken of an officer during a traffic stop and are conducting an internal investigation into the circumstances surrounding the incident. "