ACHD
Transit Center Heads Underground
If Valley Regional Transit and Capital City Development Corp. (CCDC) get their way, Boise's highest and lowest structures will be at the same downtown intersection of 8th and Main.
That is the latest planned location for a "multi model transportation center," but this time they are looking at hiding the bus station underground diagonally across the street from the new mirrored Zion's Bank tower.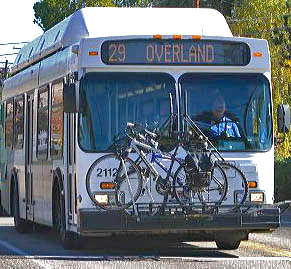 This latest attempt at a transit center comes after sites at 11 and Idaho, 8th and Jefferson and others were scuttled for various political reasons including opposition from the Idaho land board.
VRT sent out requests for qualification and proposals and GUARDIAN sources say there was only a single response. The GUARDIAN speculates the Gardner Company is the only outfit with the financial wherewithal to put together a transit center.
Based on what we have been able to piece together it appears the location includes a small surface parking lot adjacent to the Center on The Grove along Main Street. It is also midway between Gardner's two prized downtown properties–US Bank and Zions Bank.
The location is actually the same (below?) as the current bus transfer point. Our only concern is how much public money will go into the project and how much of it will benefit the private developer.
One caution for all concerned is to not rush forward without public support. Mayor Dave Bieter has relentlessly pushed for a trolley system ranging from a downtown "circulator" to a system with routes to BSU and even the airport. No doubt Federal transportation funds secured by Senior Sen. Mike years ago are about to expire, so there will be some "use it or lose it" urgency.
Coincidentally the Ada County Highway District is set to hear a presentation Wednesday at 10 a.m. from Gardner. The firm will share its vision for downtown and discuss transportation issues with the five member ACHD board.