Humor
Remembering Paul Revere of The Raiders
By DAVE FRAZIER,
Guardian Editor
Rock and roll lost a crazy character Saturday with the death of Paul Revere, 76 who used to be a local barber before hitting the big time in the 1960's. He had a summer place in Garden Valley and a home he once told me is "a huge mansion" in Branson, Missouri.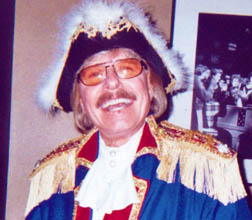 Revere — whose birth name was Paul Revere Dick, was frontman for the band that often performed in three-cornered hats and other costumes harking back to the Ameican Revolution.
Revere was born in Nebraska and played in bands in Idaho and Oregon, according to a tribute on the band website written by Roger Hart, who managed the group in the early days. Hart said he took the band to Hollywood and signed them to a deal with CBS/Columbia Records. The band recorded a string of hits in the 1960s and early 1970s, including "Kicks," "Hungry" and "Indian Reservation." Revere, the band's organist, had a hyperactive effervescent stage personality and came to be known as "the madman of rock 'n' roll."
I shot a layout for PEOPLE Magazine in the late 1970's featuring the rock star and his new (at that time) real estate career. He had just purchased the land at Federal Way and Amity which was the old Boise Gun Club. The clubhouse/home later burned and the area has been a housing development for years off Amity Road.
A few years after the People shoot in about 1980, I met him at Albertson's while buying ingredients for a Christmas coffee drink. We chatted a bit and he came over to the house to taste the drink.
Over coffee we talked about his past and he said, "We were the hottest thing on TV back in 1967 and 68 with "Where The Action Is" on ABC. I confessed that I had not seen the show.
"Where WERE you back then?" he asked.
I explained I was serving in the Army in Vietnam and without missing a beat he said, "Oh. I don't think we played there."