ACHD
ACHD Paint Stripes Confusion
By DAVE FRAZIER, editor
The following is a true story and NOT a condemnation of bike lanes or bicyclists. I hope it is not an example of an old-timer who can't handle change.
UPDATE 10/30/15
I passed by both locations and noticed candlesticks blocking the Main St. entrance to the bike lane (keeps cars like me out) and the new paint job at 27th and Fairview. Kudos from the GUARDIAN to ACHD.
Scene 1 :

Southbound on Whitewater Blvd. approaching Main Street. A series of white stripes puts my car in the right lane to turn right, destination Garden City. The bike lane is to my left for bikes to go straight across Main on 30th.
I look to the right and see the same configuration with a GIANT sign that clearly states "Garden City Right Lane" over the right lane (See photo). To my left–just like on Whitewater is a narrow bike lane between two broad white stripes. I proceed to Garden City in the far right lane.
Only when cars started honking did I realize I was in a really wide bike lane and the white stripes that looked like a bike lane were filled with "candles."
SCENE 2: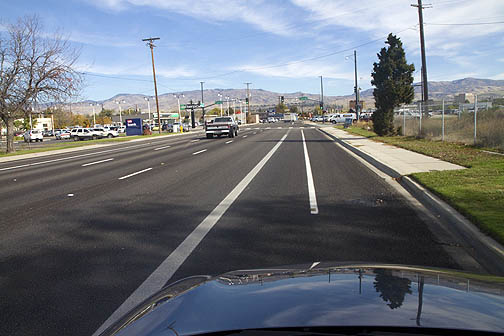 Eastbound on Fairview at 27th. A set of two white stripes that offer no indication of what is expected of cyclists or motorists (see photo)…is it a two lane bike route?
If you have any comments, please try to share some photos of similar spots that need ACHD attention. We try to do do the right thing, but sometimes it is difficult to know one's place in life.