Federal Government
The "Thank-You" Flag From D.L. Evans
BY DAVE FRAZIER, editor
Dropped by the bank Tuesday afternoon to make a deposit and saw cookies and punch on a table near the teller windows.
"What's the occasion? I asked.
"Veterans Day," said the teller who had previously purchased a couple copies of my book, DRAFTED!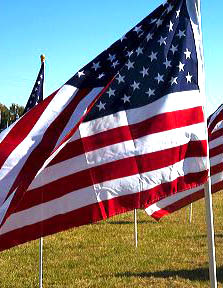 I informed her they were a day early and she said the bank was closed on November 11, so they wanted to get their "thanks" in on the 10th.
Cookies and punch were a nice gesture, but not what my waistline needed.
"We have flags," she offered.
I expected a little hanky on a stick, but on the table with the cookies were honest to goodness USA American flags! Nice nylon numbers with embroidered stars, double stitched stripes and folded properly in the all too familiar triangle presented to mothers and widows.
My thank-you was a bit flippant when I said, "Nice to have my own flag that wasn't on a casket." It wasn't until I put the stars and stripes on the front seat of my car that I realized it REALLY was nice to have a flag that wasn't on my casket or that of a loved one.
A lot of restaurants, coffee shops and retailers are saying "thanks" Wednesday. If you are a vet, drop by, collect your burger or drink and chat with the new crop of warriors.
If you are a retailer not sure if a guy is really a vet, ask him to tell you what a "p-38" is. If he tells you it's something you carried on a keychain, give him his drink and say, "thanks for your service."
(P-38 was a can opener for C-rations)