Constitution
AG Investigates $31K Discrepancy At Ada Office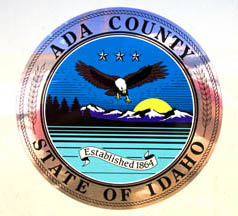 A forensic audit of the  County Treasurer's office ordered by the Ada Commishes has revealed a criminal investigation over a $31,000 discrepancy is underway by the Idaho Attorney General's office.  
The audit is the latest chapter in the feud between the Commishes and the Treasurer.
Details of minute-by-minute alterations to the accounting of a check in the amount of $31,349 are left unexplained in the audit "due to an investigation underway" by the AG, according to the audit. The funds were destined to the Idaho State Treasurer as part of an estate which was closed by the Ada Treasurer's office about a year ago.
Treasurer Vicky McIntyre told the GUARDIAN she discovered the irregularity nearly six months ago and immediately notified the Ada County Prosecutor. This happened under a previous administrator who is no longer a county employee.
The audit centered around the role of the "Public Administrator," a constitutional duty which falls under the elected office of county Treasurer when someone dies with no will or living relatives.
The forensic audit concluded with many recommendations to secure everything from guns and ammo to cash obtained from estates of people who died with no will or living relatives. Eide Bailly LLC conducted the audit which was generally critical of the way the office of Public Administrator is being run. Apart from the case involving the check, there didn't appear to be any indication of criminal activity.
 
Questions also arose over property acquired by the Treasurer's Office prior to being offered for sale. One issue questioned by the auditors was a desktop scanner reportedly worth at least $200 which was "purchased" from an estate for $25, but could not be located during an inventory audit. The scanner was never offered for sale at auction.
 
Here are some highlights of the audit:
 
–Items stored in the vault in the courthouse are unsecured during the day in a common area.
–A key to a secure storage bin is left in the lock for anyone to use.
–There appears to be "co-mingling" of assets at county storage facilities.
–Some items are stored at the Coroner's warehouse in an unsecured area, including guns and ammo.
VIEW AUDIT:
Forensic Audit Treasurer's Office 09-24-15
Treasurer Vicky McIntyre offered the following written comment:
The task of public administration has exploded since I took office in January 2011. Prior to this time, the county had approximately 3-4 cases a year. Currently we average about 20 cases a year. We report to the Courts twice a year. In our November report, we reported 14 active cases, 8 pending closure, 1 pending determination, and 3 closed, denied, or transferred.

In 2011, a tax data clerk performed the administrative tasks of public administration. In 2012, I developed a specific job description for public administration because of the explosion of casework and the complexity of the estates. In April 2013, I hired the first official public administration specialist in my office.
As with any new employee, it takes time to transfer processes and have them "make it their own". In January 2015, that first employee left county employment and I hired a new administrator. Since hiring this second specific public administration employee, we have been developing more standardized procedures and defining categories of tasks that all cases have (small versus large estates). The current PA administrator has added a sophistication of automation to the job. We've added a case tracking software called "MyCase" to standardize all estates. She has attempted to bring all former "open" cases into this new standard. We also now have an automated "time tracker" to more accurately log time spent on cases. It all takes time, and everything we do remains "a work in progress", as no two estates are alike. We have developed a liquidation of estate assets process using the website and auction companies.
Public Administration is not like accounting or business administration, where you can go take a college-level class to know what to do. Many of the processes that have been developed are from recommendations by the prosecuting attorney's office; the legal advice arm of a public administrator. We do nothing without communicating with the prosecuting attorney assigned to the estate. (We don't work with just one attorney, but have cases with about twelve different attorneys; each with their own ideas on how public administration should be handled.)
My office has attempted to be respectful of Ada County taxpayers' expense for public administration and have attempted to use county resources as much as possible to keep costs low. However, in April 2015, I was informed by the Director of Operations, Dave Logan, that county resources would no longer be available for my use; therefore, in the 2015 county budget process, I submitted a supplemental budget request for resources to more appropriately fund the function of public administration. The BOCC approved about half of what was requested. In the request was the need to lease a separate property where the estate assets could be more securely stored, inventoried, and liquidated. (A recommendation you'll see in the forensic audit report.) While some funding has been provided for this, insufficient resources in this and other functions in the Treasurer's office continue to be the issue.
All funds of public administration are accurate and can be accounted for. A thorough understanding of the interaction between the treasurer's office and public administration is needed to be able to fit everything together.
My office has cooperated fully with all audit requests and with all investigators. We will evaluate the suggested changes from all audits, with the available resources, and implement those that are feasible.
Vicky McIntyre
Ada County Treasurer/Tax Collector/Public Administrator