ACHD
BSU Seeks To Wipe Out Boise Neighborhood
In an informative piece of local reporting, the STATESMAN informed us Sunday that Boise State University has expansion plans which could see the demise of the Southeast Neighborhood along Boise Ave.
In a nutshell: BSU officials want to increase the footprint of the school by 50 acres which would wipeout dozens of homes in the area adjacent to the campus to include Juanita St. and Boise Ave. Of course they also will close streets, including University. We are quickly losing the "small town charm" of our fair city and much of it is driven by BSU.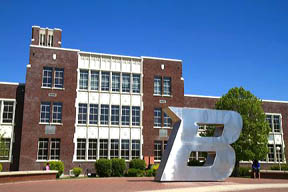 Even the Statesman headlines are bipolar on the subject. The print version says homes are in the path of "Progress." The on-line version proclaims the expansion could "knock out a neighborhood." Boise City has created a zoning classification called "university" to indicate areas of dead meat to feed the hungry educational beast called BSU.
Here are some points to ponder over the expansion of BSU.
–The university (like all schools) has a MARKETING department whose job is to SELL the school and attract students who will PAY–often at a huge debt cost–to attend the school. The idea is to grow forever, constantly adding to the "product." If there is a demand for expansion, it is one that is created and fueled by BSU itself.
–The idea of the College of Western Idaho building an urban campus just a a few paddle strokes downstream from BSU makes no sense.
–Citizens of Boise pay an inordinate price to provide police, fire, and other services to BSU. The fire department responds to more than 150 calls a year and BSU pays nothing for the protection. Boise Police have full time police service at the school, but the fees paid are not sufficient to cover all the costs. While not part of the school, the station across Capital Blvd. which covers all the new apartments is a drain on police resources, directly connected to BSU. Two police stations several hundred yards apart is insane.
–ACHD won't even talk about street closures because if BSU owns a street, ACHD has no authority (or responsibility).
While politicos love to tout the economic benefits of having more students, more traffic, more faculty, more sports fans, and more facilities, they forget to add more TAX-EXEMPT buildings. Those students, faculty, etc. also CONSUME vast amounts of services from police, fire, sewer, schools, and roads, but they don't provide tax revenue to the city.
One doesn't need a BSU degree in economics to figure out when you take property off the tax rolls and increase costs it is a losing proposition…for citizens of Boise.
Finally, the GUARDIAN predicts BSU will magically have some sort of "retirement" deal for Boise Mayor Dave Bieter when and if he finishes his term.