Constitution
Protest Erupts In Gun Fire At Burns, Rangeland Protesters Set To Meet In Boise Saturday
MSNBC is reporting gunfire and death Tuesday afternoon at the standoff in Harney County, Oregon where armed protesters have occupied the Malheur Wildlife Refuge for several weeks. See the FBI news release at the end of this post for more details.
The GUARDIAN has confirmed that a group with apparently similar concerns as the protesters has booked Boise's Centre On The Grove for Saturday January 30. The seminar is entitled "STORM OVER RANGELANDS" and has scheduled a "Property Rights Workshop" and will discuss "Dealing With Federal Overreach."
This poster was sent to the GUARDIAN promoting the Saturday Event: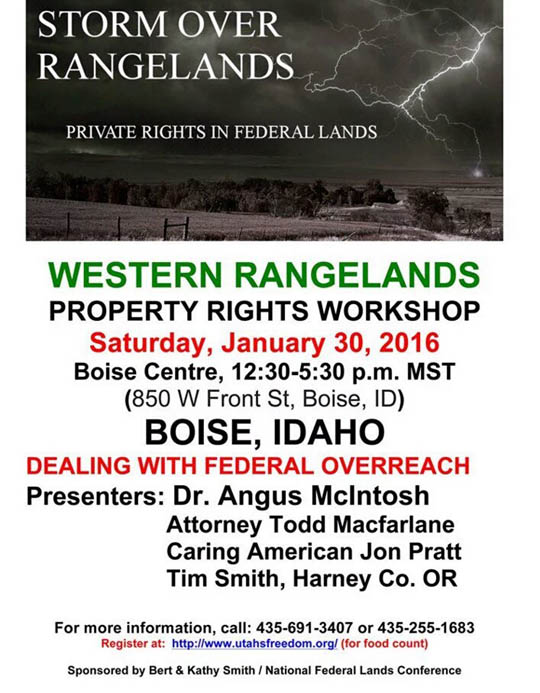 Here is the FBI press release about the Oregon events:
"At approximately 4:25 p.m. (PST) on Tuesday, January 26, 2016, the Federal Bureau of Investigation (FBI) and Oregon State Police (OSP) began an enforcement action to bring into custody a number of individuals associated with the armed occupation of the Malheur National Wildlife Refuge. During that arrest, there were shots fired.
One individual who was a subject of a federal probable cause arrest is deceased. We will not be releasing any information about that person pending identification by the medical examiner's office.
One individual suffered non-life threatening injuries and was transported to a local hospital for treatment. He was arrested and is currently in custody.
The arrested individuals include:
* Ammon Edward Bundy, age 40, of Emmett, Idaho
* Ryan C. Bundy, age 43, of Bunkerville, Nevada
* Brian Cavalier, age 44, of Bunkerville, Nevada
* Shawna Cox, age 59, Kanab, Utah
* Ryan Waylen Payne, age 32, of Anaconda, Montana
These probable cause arrests occurred along Highway 395.
In a separate event in Burns, Oregon, at approximately 5:50 pm, Oregon State Police arrested the following individual:
* Joseph Donald O'Shaughnessy, age 45, Cottonwood, Arizona
All of the named defendants face a federal felony charge of conspiracy to impede officers of the United States from discharging their official duties through the use of force, intimidation, or threats, in violation of Title 18, United States Code, Section 372.
We continue to work with Harney County Sheriff Dave Ward and his deputies; Oregon State Police; and the United States Attorney's Office to address any further outstanding issues. As the investigation is ongoing, we cannot comment further at this time.
All defendants should be presumed innocent until proven guilty."