COMPASS
Transit Center Design Flaw Prompts Bus Modifications
The GUARDIAN has confirmed that a ValleyRide bus scraped the road surface at the new underground transit center during a test run due to a construction design flaw.


Sources tell us the ramp leading up to Main is so steep that buses cannot crest the top without scraping the undercarriage. To be clear, we have been unable to learn if the front, center, or rear of the bus is dragging. There is indeed an issue either at the top or bottom of the ramp which created the need for modifications of the vehicles.
No word on how much modifications costs per bus, but we were told the "skid pans" which protect the bottom of the buses have been altered so the buses can clear the new facility. The design flaw prompted alteration of the skid pans on multiple buses which were unable to clear the exit. Apparently one model of buses in service is OK.
At a recent meeting of ValleyRide board members, it was also disclosed that with only eight stalls available underground, some buses will have to remain staged on Main Street.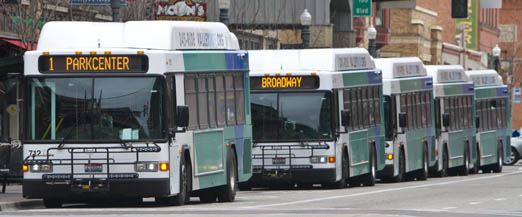 The "basement bus station" is designed to have buses drive south on Capital Blvd. against traffic from Main to an entrance beneath the new ballroom next to the Grove Hotel. The exit which caused the clearance issue is on Main and the tight squeeze there is expected by some to be risky to pedestrians, bicycles, and cars due to the steep incline and inherent vision challenges.
ValleyRide spokesman Mark Carnopis told the GUARDIAN the modifications will not hinder the safety of the buses. He challenged the "design flaw" characterization, explaining the construction specs were based on only one model of bus and skid pan modifications are being made in house.
UPDATE 3/12/16–Statesman's Sven Berg followed up and REVEALS a mere 21 buses have to be altered. Seems that no one at the bus agency was aware of the skip pans and the person who would have known is gone.