Emergency Service
Air War Plays Out Near Lucky Peak
It looked like an all out air war Tuesday afternoon when fire broke out in prime winter deer habitat near Hilltop along both sides of Highway 21.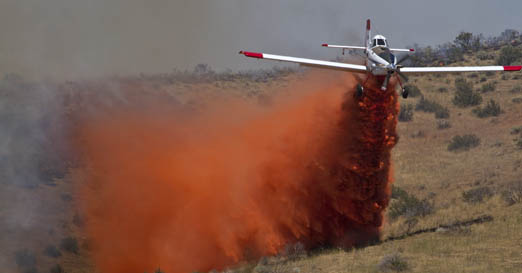 The usual assortment of BLM, Forest Service, and local fire departments tossed everything they had at the blaze. At the scene we were told that "two structures" were lost, but no word on exactly what type of structures succumbed to the wildfire.
A helicopter dipped water from Lucky Peak Reservoir while single engine tankers similar to crop dusters dropped fire retardant on the fire. A P-2 twin engine tanker and a 4 engine jet were also deployed to fight the fire.
BLM staff told the GUARDIAN at least 1,000 acres were consumed and the fire was still growing as it moved southwest toward the Boise foothills. No doubt the Idaho Fish and Game Dept will once again be looking for volunteers to replenish the bitter brush for deer forage.