Humor
Morgan Boydston Wins Dope Reporter Award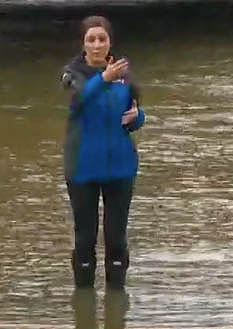 KTVB Channel 7 is this year's first winner of a coveted DOPE REPORTER award for standing in flood water along the Boise River wearing a pair of boots when the only reason to stand in the water was theatrics.
In her stand up appearance during the Friday 10 pm newscast she noted the water was "up to our calves." Had she stood in a different spot, the water would have been up to her chin!
This was a difficult award to make because her report explaining why there is still space in the reservoirs (to allow for future known snowpack to runoff) was otherwise well done and timely.
But fair is fair. We posted a WARNING February 23 about playing in the puddles.
Imagine a print reporter writing, "I stood in water near the Park Center Bridge to write this article."
In all fairness, many national reporters have also performed while standing in the water. Some classic flood reports on YOUTUBE
Readers are encouraged to make nominations, along with images if possible.