City Government
Guard and BOI Snub Vista Neighborhood
When it comes to doing battle in the Mideast, Idaho's Air National Guard is ready to serve, but when meeting with Vista Neighbors, both the ANG and Boise's airport officials avoid confrontation, refusing to join a panel discussion on the F-35.
The Vista Neighborhood Association will hold a meeting 7 p.m. Thursday April 27 at the Whitney Elementary School gym on the corner of Owyhee and Palouse, just south of Overland. The group is concerned about the potential of having the Air Guard flying F-35 fighters. While the official neighborhood stance is to gather more information and keep an open mind, many feel betrayed by the IANG and politicians bent on getting the noisy jet fighter based at Gowen.
Despite formal invitations to join a panel discussion, both the Boise Airport and IANG declined to participate. The panel will consist of Citizens for a Livable Boise, an environmentalist, a health professional, someone to address children hearing issues,and a PhD economist. Written questions will be answered.
In a letter to Vista Neighborhood president Mike Stefancic, IANG Maj. Chris Borders said, in part, "the Idaho National Guard does not engage with the public this way, nor are we authorized to do by the U.S. Air Force or the National Guard Bureau–our higher headquarters." OK, good excuse.
But wait! There's more! The GUARDIAN received a copy of an invitation to Boise Regional Realtors to attend a meeting May 23 which will include a "forum" with PANELISTS. Guess what? Both the Air Guard and Boise's airport director will be on a panel discussing changes at the airport and Gowen Field. No opposing panelists will appear at that meeting.
Both the ANG and the Airport suggested the time to ask questions is AFTER Boise is selected as an F-35 base during the environmental impact phase of the project. Seems rather self-serving for government officials to put off public comment until LATER, while conspiring to get their own message out NOW. They use what they describe as the "heavy hitters" in the community through uniform talking points printed in ghost-written op-ed pieces supposedly authored by local politicians and bureaucrats.
See conflicting documents below.
Letter from Major Borders declining to join panel.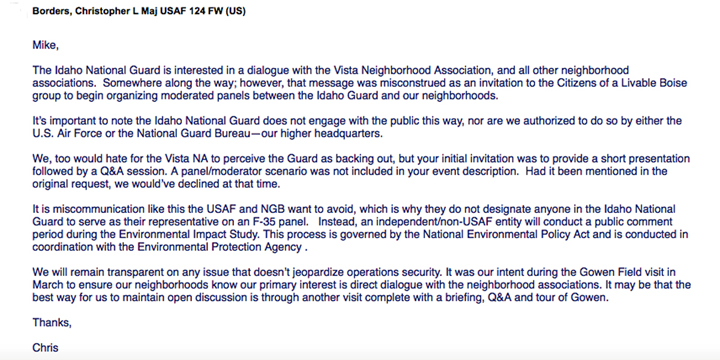 Realtor announcement with Air Guard officer on panel, despite prohibition from "higher headquarters."
59-Minute-Meeting-Airport-Flyer-5.23.17