Environment
Kim Fields Latest Dope Reporter Winner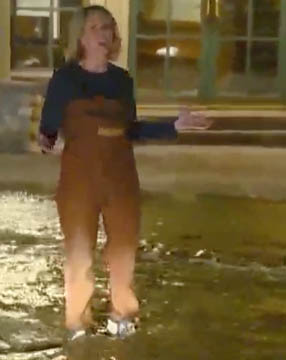 Normally a class act among local TV anchors, KTVB-7 showed Kim Fields standing in ankle-deep water wearing chest waders along the Wood River, earning her a coveted DOPE REPORTER award from the GUARDIAN.
With three nominations in our morning mail, it is obvious KTVB has plenty of viewers.
KBOI-2 showed stock images of Garden City while also doing a location shot at Emmett along the Payette River where the previously built levee was holding and there was little to no flooding. No overnight stay at Sun Valley for their reporters.
Channel 2 also warned viewers to stay away from flood waters. Obviously that didn't apply to TV reporters. With the STATESMAN venturing into shaky cellphone video on-line, it is only a matter of time before they start playing in the water too.