County
Legal Bills Continue To Mount For Ada Taxpayers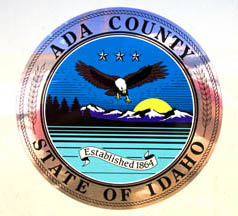 A 4th District Court Judge has issued a scathing order chastising Ada Commishes Jim Tibbs and Dave Case for their part in firing Rich Wright, former administrator for the county.
A jury unanimously awarded Wright $1.6 million for his claims plus the attorney fees bring the total to be paid by the citizens to $2.46 million. Wright had appealed a previous dismissal from another 4th District Judge to the Idaho Supreme Court. The Supremes overturned part of that decision, forcing the new trial.
On Wednesday Judge Kathryn A. Stricklen denied the county's motions to not pay Wright's $664,527 legal fees and to order a new trial.
"It is quite clear that both Case and Tibbs were acting together, and that their conduct was highly unusual," Stricklen wrote. "Not one witness criticized Wright's performance. The Court does believe that the verdict for Wright was in accord with the clear weight of the totality of the evidence."
Stricklin termed awarding legal fees as "appropriate" and "reasonable."
The case was filed as a "whistleblower" action after Wright was fired the day after Tibbs and Case took office. Larry Maneely, a former TV sportscaster and close friend of both Tibbs and Case was appointed the next day–lending credence to the Judge's conclusion.
Case and Tibbs assumed the majority of power on the three member board in January 2013. Their first big legal move back then was to make a $2 million settlement to Dynamis over the failed Trash to energy scandal brought forth by the previous board. Had they treated Wright the same as Dynamis, it would have saved taxpayers some cash.
Some say a picture is "worth a thousand words." The one at the STATESMAN website is worth well over two million dollars."