City Government
GUARDIAN Library Plan Still Valid After 11 Years
We cannot stress it strongly enough. The citizens of in Idaho are empowered by the State Constitution to control the purse strings of public debt.
Boise City and Team Dave have once again launched a public relations blitz to create support for a $70 million edifice to replace the main Library on Capitol Blvd. near the river. The question before Boiseans is quite simply: "DO YOU WANT A BEAUTIFUL BUILDING OR GOOD LIBRARY SERVICE?"
Nearly a dozen years ago the GUARDIAN offered up a common sense plan to provide first class library service to ALL of Ada County and share the costs. We once again offer up our sound advice which includes a vote of the people for a consolidated Library to serve Boise, Meridian, Garden City, Eagle, Star, Kuna. There is an existing "consortium" of libraries which does a good job sharing assets and talent.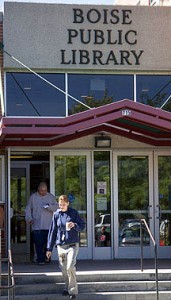 SEPT 2011 POST
LIBRARY PLAN OVERDUE (EXCERPTS FROM HISTORIC POST)
Before Boise Mayor Dave Bieter and his Team Dave go too far politicizing libraries, he better talk to the hardworking folks who make it all work.
The GUARDIAN has been working below the radar to come up with a plan for a county-wide system of libraries in Boise and we can assure you it involves ALL citizens who understand and value the services and rewards of a good library system.
People in Boise, Meridian, Garden City, Eagle, Star, and Kuna are all residents of Ada County. We should have just one library and Boise should NOT be the 900 pound gorilla.
Insiders at all levels–BPL staffers, Ada Community Library, and several 35 year library veterans–tell us the best thing we can do is have a COUNTY-WIDE LIBRARY. One former staffer tells us the State Library favors county libraries and they work toward such systems.
Guess what? TODAY, through a "consortium" of libraries that runs from Caldwell to Twin Falls and even to Hailey, you can use a Nampa library card to borrow a book in Boise and return it to Hailey when you are finished. Or any combination of transactions at those libraries.
If we consolidated just the Ada libraries we could have a greatly simplified system and EVERYONE would share in both the costs and the benefits.
As it is now, Boise residents are getting hit unfairly in the pocketbook and Team Dave wants to build more libraries–he just doesn't know how to fund them. The library law provides for consolidation with–A VOTE OF THE PEOPLE! We need to get this rolling before Boise gets a debt load or committed to one program without exploring consolidation.
Because Boise annexes beyong its ability to provide services, they PAY other libraries toprovide services to Boise residents. HOWEVER, users (insiders call them "patrons") from those districts can use their cards in Boise for free.
Without getting into a debate about what libraries should offer, we feel computer access is absolutely essential. The days of card files and 10-year-old encyclopedias are gone. Today's libraries offer traditional printed books alongside videos and access to just about any information on earth through the internet.
While Team Dave was busy offering up an ill fated and outdated $38 million library bond, the worker bees in the library business continue their efforts at making services available to library types everywhere.
We already share the books, how about sharing the control, funding, and costs countywide and we would all pay just once?

Since the original post, Team Dave wisely opted for neighborhood libraries. Two are new stand alone buildings and two are store front remodels in shopping centers. Good effort, good results, and it was all done out of pocket change in the city budget with no bond debt or solicitation for donations.
The current $70 million plan has plenty of hoopla, a "world class architect," the usual drawings and color photos in the Daily Paper, but no word on where the money will come from to pay for the dream.