City Government
Report On Air Force Range Plans Over Boise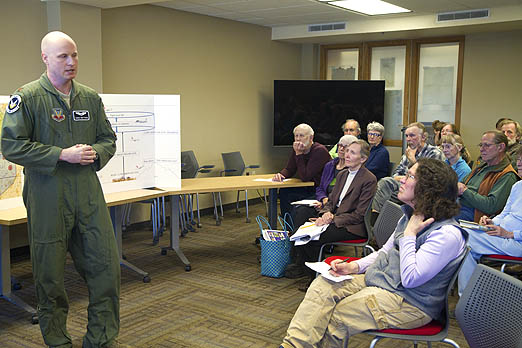 We attended the Friday 13th meeting with the U.S. Air Force delegation conducting the "scoping meetings" for an Environmental Assessment about using Boise as the site for "close air support" training in an urban setting.
An EA is less demanding than an Environmental Impact Statement (EIS), but so many acronyms were floating around the room it sounded like alphabet soup. Many in the audience were full blown environmentalists and frankly seemed to have a better grasp of the process and regulations than those from Mountain Home.
In a nutshell the Air Force is planning to fly F-15 fighters over the city while a cadre of 35 airmen on the ground (grounded airmen?) will identify targets such as vehicles and structures for the fighter jets to shoot with "eye-safe lasers." A typical exercise would have the airmen driving civilian vehicles and wearing civilian clothes. It would last about 90 minutes and the aircraft would "orbit" about 20 times. Air and ground would communicate with portable radios.
The GUARDIAN asked Major Adam Mattheis if the troops would be armed as they prowl the urban canyons and back streets of boise. His reply was, "Absolutely not!"
When we noted that many civilians in Boise WOULD be packing heat, the audience erupted in laughter. However, if a bunch of guys are running around Boise playing war they stand a good chance of having their game interrupted by either the police or concerned armed citizens.
We suggest the troops wear easily recognized uniforms and drive official government vehicles. Our city is not the place to play war. We take combat seriously.
Overall the audience asked good, probing questions. The Major did well with technical answers, but as a whole the presentation was clumsy with many unanswered questions. An impromptu vote was taken and the citizens overwhelmingly wanted another meeting with better answers regarding if other cities were being used for target practice, how long the training would last (no date for final flight if ever), if foreign forces would be flying here, what recourse Boise folks have if the Air Force exceeds the scope of the training, etc.