ACHD
ACHD Proposes To Give Commercial Vehicles "Free Ride," Stick Little Guys With Tax Hike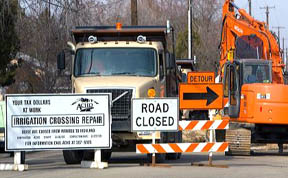 Ada County Highway District Commissioners will consider a craftily worded fee hike proposal at their July 11 noon meeting which places new fees squarely on the back of small passenger car owners while exempting the rigs that chew up our roads.
The proposal, which is planned for the November 6 ballot, sets forth a fee schedule that deceitfully and deceptively excludes commercial vehicles like those fleets owned by Idaho Power, UPS, Fed-X and others who profit from using the Ada highways and streets and obviously inflict more damage than small "four wheelers."
The GUARDIAN noticed the disparity in the existing fee schedule after it passed 10 years ago, but "the voters had spoken." This time we want to let folks know in advance they will in essence be subsidizing all the big (and small) businesses using our roads to turn a profit. Even more insidious is the provision to make the fee hike permanent until repealed by voters.
Under the proposal, the fee schedule would be tacked onto the standard Idaho State registration fees. Here is the dirty little secret:
Each pickup truck and each other motor vehicle having a maximum gross weight not in excess of eight thousand (8,000) pounds, designed for the purpose of carrying passengers, and not used for hire:
Vehicles seven (7) or more years old ……. $42.00
Vehicles three (3) to six (6) years old ……… $63.00
Vehicles one (1) and two (2) years old ………… $70.00
Each motor vehicle, equipped to carry passengers and operate primarily for hire and each school bus, identified in I.C. 49-402(2) $28.00
Each motorcycle and terrain vehicle $14.00
That the duration of the local vehicle registration fees implemented and collected will continue until altered or repealed by voters. Upon approval of the electors, the existing 2008 authorization of the local vehicle registration fees shall be repealed on January 1, 2019.

We see this exemption for any truck over 8,000 pounds to be nothing less than a "payoff" to the business community to garner support for the proposed fee hike on the backs of the little guys. The wording "not in excess of 8,000 pounds" is obviously meant to avoid the phrase, "VEHICLES IN EXCESS OF 8,000 POUNDS WILL NOT BE TAXED."
Here is the complete agenda proposal as well as the proposed ballot language.
Resolution 2242 2018 Vehicle Registration Fee Resolution and Ordinance Notice of Public Hearing
Idaho Code 40-1416 is the enabling legislation allowing the ACHD to impose fees. We cannot find any exemption for the commercial vehicles. Also it appears to us 40-1416 limits rates, but does not specifically exclude ANY vehicles.
Any legislator willing to seek an AG opinion would certainly be welcomed. ("Are any vehicles specifically exempt from paying local highway district fees under Idaho Code based only on weight?")