Business
Boise Preys On Auditorium Cash Reserves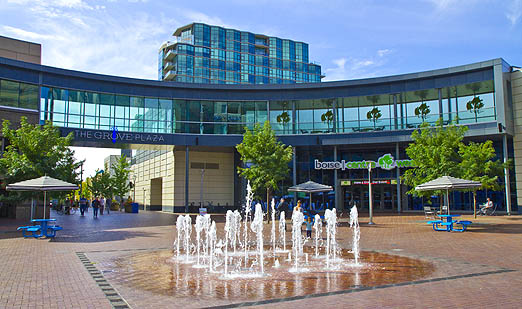 The Greater Boise Auditorium District (GBAD) is awash in cash from the local hotel room tax and Boise City's Team Dave is trying to get their hands on it.
The City Council will discuss a scheme at Tuesday's meeting that would allow them to sell the Grove Plaza and fountain for $8 to 10 million so they could spend it on a baseball park with no public scrutiny such as a bond election.
In a nutshell here's the deal:
The Central District urban renewal project, which includes the Grove Plaza with the fountain and donor bricks, has expired. The Capital City Development Corp. (CCDC) has owned the area for nearly 30 years and they will transfer ownership to the city. Logical move, the area is essentially a park with a fountain and an outdoor concert venue with benches, etc. No money exchanges hands and the Grove Plaza remains a public asset.
But since the location is outside the front door of the Centre on The Grove convention center, it would be just as logical to transfer title to the GBAD. In fact, GBAD has had a maintenance contract for years with CCDC.
When GBAD executive director Pat Rice learned of the upcoming transfer deal between CCDC and Boise City, he began the work of negotiating a new maintenance deal with the city. That has been pretty much the only official communication between GBAD and Boise over the Grove Plaza.
In what can only be termed a "typical Boise" deal, the city proposes a warranty deed with restrictive covenants allowing them to sell the public asset to another public entity which could only be GBAD. And, the proceeds are to be used for a ball park or "no deal." The only reason for such a deal according to a GUARDIAN source is, "That's the only way we can get our hands on the GBAD money."
Throughout the past year's controversial meetings, presentations, and proposals, for a downtown ballpark,GBAD has remained silent. The board took no action regarding ANY expenditures for the proposal which would have featured a baseball park/soccer field surrounded by a private commercial development. First it was in the old K-Mart property at Americana and Shoreline, but that was abandoned for a potential location at 2900 Fairview near Whitewater Parkway which is in limbo.
Citizens have been generally opposed to spending tax money that would be part of a private development. In a plan that defies logic and wreaks of "insider trading" and blatant money laundering, Team Dave's offer will undoubtedly highlight the Tuesday council meeting.
In fact, GBAD has expressed little interest in a stadium even though the agency could legally run a ball park. Meanwhile Mayor Dave Bieter has eagerly promoted and endorsed a downtown ballpark. Greenstone Properties has been the developer with the architectural drawings.
Margaret Carmel at IDAHOPRESS did some good reporting, contacted city councilors and added perspective to this post.