CCDC
Trust, But Verify Library Vote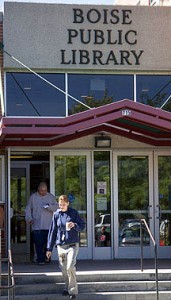 With pressure mounting from the GUARDIAN, former BSU Prez Bob Kustra, Vanishing Boise, and Rep John Gannon, Boise City councilors say they will discuss a possible public vote on the proposed library and stadium. See IDAHO PRESS story for details.
There is a petition drive underway to obtain 5,000 signatures that would put the question on the ballot.
We are "cautiously optimistic," about the council's decision. The devil is in the details. The vote must be a binding vote that will either open or close the public purse strings for the two projects.
Citizens have too often been manipulated with surveys, advisory votes, and claims that electing a politico gives that person approval for any and all actions.
ACHD claimed citizens favored a fee hike in passenger cars while exempting trucks over 8,000. However, when an actual binding vote was counted, the measure failed miserably.
Any ballot measure should be clear and concise: "Shall Boise City spend $80 million in tax money for a library?" The poorly worded contract with architect Moshe Safdie ignores common safeguards for Boise taxpayers, but a vote to either go forth or halt the project will have the force of law and transparency.
These projects are so "profound" they need citizen approval and authority for any debt. Circumventing the Idaho Constitutional requirement for citizen approval of debt is unacceptable.