ACHD
Growthophobes Surface At The Polls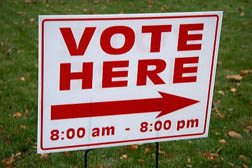 Any way your cut it, GROWTH is is costly and not what the citizens of Southwest Idaho want to see. GROWTHOPHOBES have sent their message.
Amid cries from overzealous local politicos that "A two-thirds approval is an impossible bar to pass," we are seeing voters adamantly reject bonds with a two-thirds DISapproval!
Canyon County's jail bond is a perfect example. The 2C voters came out 66% against and only 34% in favor or a $187 million jail bond. Rather than listen to citizens, the commishes spent public money with a public relations firm in an effort to "sell" their expensive jail plan.
As an outsider, the GUARDIAN believes the voters inn Canyon are reasonable, decent folks who understand the need for expanded jail facilities. These citizens are NOT the enemy. They just don't want to buy more than they need based on some consultant's idea or the dream of the politicos. There is a long history of the commishes ignoring the will of the people.
A recent survey conducted by Boise State University indicated that rapid growth was a top concern of citizens. That same survey has previously been used by politicos to justify various pet projects and spending. Transportation, public safety, education, etc. were often cited.
Meridian narrowly passed a library bond and Kuna soundly defeated a library bond. The only take away on either election should be the will of the people. We note Boise officials are doing everything within their grasp to prevent an election over funding a new library.
In November Ada County voters rejected unfair vehicle tax which was strongly supported by the development community.
There IS a solution. Cities, counties and even the state of Idaho need to stop spending public money to encourage growth. They offer assorted "tax incentives," economic development grants, promises of cheap real estate and much more in their efforts to increase the population density and create the need for more jails, schools, highways, and scream about the need for clean air and water.
Caldwell's urban renewal agency awarded $200,000 to a company last week to encourage it to expand and create up to 50 new jobs. That, in the face of a huge proposed tax hike to cover the jail bond.
While it may be impossible to stop growth, it sure as heck is possible to stop advertising to encourage growth. Making developers pay up front for the damage they inflict on society while turning farmland into asphalt jungles will have less appeal.