ACHD
Government Sponsored Growth Fans Tax Hikes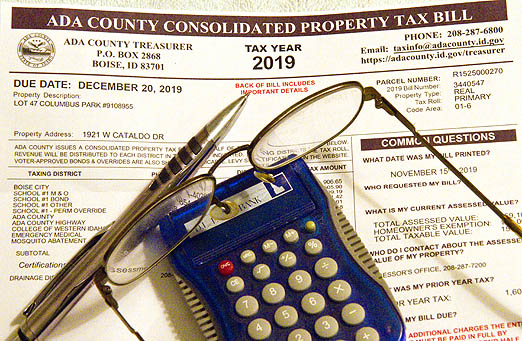 Just in time for Thanksgiving, Ada County's property tax notices have come out.
Any way you care to spin it, growthophobes who have lived here for any length of time are funding the growth to benefit the mortgage lenders, developers, contractors, planners, consultants, etc. Growth is costly and does NOT pay for itself.
There are no impact fees for schools, and the list of "incentives" we are forced by the politicos to pay businesses to locate in Idaho (and the Boise area) turns our stomach. The GUARDIAN growthophobe policy has long been to welcome any business or individual willing to pay their fair share of taxes and not seek welfare. "If you can't make it without taking cash from the citizens, please take your business elsewhere."
Our combined Ada County property tax bill here at the GUARDIAN world headquarters increased 35% over last year and all we have to show for it is more traffic, homeless people at every entrance to the super market, crowded schools, and mean spirited politcos who spend OUR money advertising and promoting the area as a destination for those who seek to exploit us.
The GUARDIAN has long complained about members of state and local government who abuse urban renewal, cater to developers, and generally spend "other people's money" with reckless abandon.
The oft heard cry of, "you can't stop growth" rings hollow when cities compete to attract businesses and form illicit partnerships with the private special interest lobbying entity known as the Chamber of Commerce. Realistic impact fees for police, fire, highways, and parks would serve to curb the developers seeking the best deals from local governments.
The public outrage at Boise's mayor and city council to get around the state constitution with massive spending schemes for a luxury library edifice and a sports stadium could easily be the first whisper of what could become an angry shout from citizens seeking some equity in the way they are treated.
Feel free to share your tax numbers with us (they are all a public record). Hint: to figure the increase subtract last year's tax found in the "common questions" box from this year's total. Divide the increase by the previous year amount to get the perc entage increase.
Example: 2019 tax of $3,000 minus the 2018 tax of $2,500 is a $500 increase divided by the original 2,500 which equals .20 or 20%.