City Government
"Clan McLean" Arrives At Boise Mayor's Office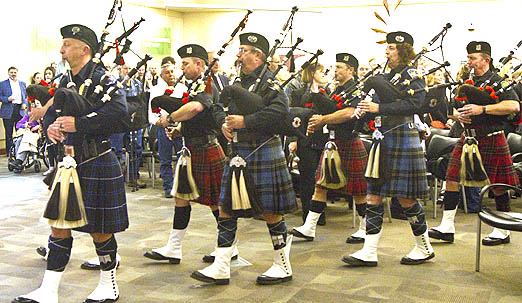 With police bagpipes wailing and drums beating, Lauren Mclean and "Clan McLean" marched into the city council chambers Tuesday night as Boise's first elected female mayor took office in front of a standing room only crowd.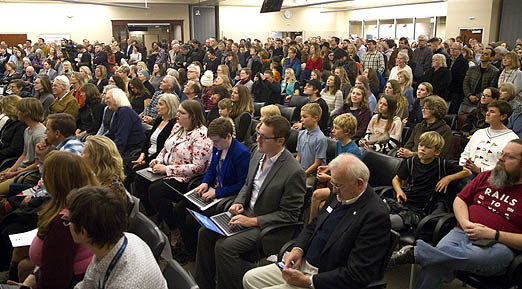 McLean exchanged a very brief arms length handshake from former Mayor Dave Bieter as he strode across the dais to hug councilor Lisa Sanchez following the swearing-in ceremony.
As McLean, Jimmy Hallyburton, Elaine Clegg, and Patrick Bageant were sworn-in, each offered thanks to supporters and spoke of their eagerness to serve the citizens of Boise.


McLean noted she was not the first female mayor, but the first ELECTED female mayor. She graciously acknowledged Carolyn Terteling who served as acting mayor during the turbulent times following the forced resignation of former mayor Brent Coles 18 years ago. Ironically and probably unnoticed by most, Coles was in the audience.
Next order of business was election of council president and pro-tem. Longest serving councilor Clegg was nominated and elected as council president. Then in a politically astute move, Councilor TJ Thomson suggested an "all woman leadership" team and nominated Holli Woodings for council pro-tem.


The roll call vote was suddenly stalled when it came to Councilor Lisa Sanchez. Sanchez mentioned that she and Woodings were not always on good terms. Then in a surprise move that injected a degree of tension into the festive love-in, Sanchez directly addressed Woodings and asked if she (Woodings) would commit to supporting and mentoring her for pro tem in 2021.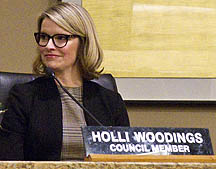 Woodings hemmed, hawed, dodged the question and said something about supporting all members of the council. Sanchez appeared to record the exchange on her smart phone. She ultimately voted "yes" for Woodings.
With the exception of Bieter's former spokesman, Mike Journee, McLean hasn't make any staff changes within the mayor's office. She has assured the GUARDIAN that efforts are underway to save money within the office of mayor.
The next two years should prove interesting in city politics as the new politicos vie to promote pet projects and causes. At first blush, it would seem there will be fewer unanimous votes than in the past.