Education
Boise School Posts "Wanted Dead Or Alive" Posters For Historic Explorers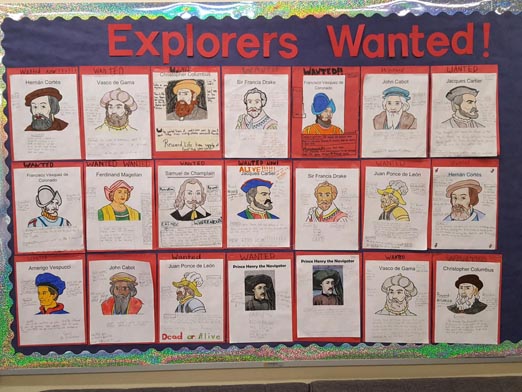 The topic of early world explorers as it is taught in a 5th grade class at Whittier School is likely to fall along generational lines as distinct as Republican and Democratic politicos.
GUARDIAN reader Nate Murphy sent us a set of "wanted posters" from a 5th grade class at Whittier school which pretty much listed a one-sided view of early explorers from Christopher Columbus to Sir Francis Drake. The student-produced posters pretty much made conclusions that fly in the face off what older generations were taught in school.
Murphy was concerned enough about what he saw to share his views with the governor, Lt. gov., legislative leadership, and the state department of education. He didn't get a single response.
We share his letter, the images which upset him, and the official response from the Boise School District's spokesman, Dan Hollar.
MURPHY's LETTER:
As a father of a 1st grader, home owner, and citizen of the Great State of Idaho, it brings me great displeasure to bring this to your attention. I received the pictures below from a 5th grade class in the Boise School District a few weeks ago. If you would be so kind as to review the pictures first, then come back to the body of the email, I think it would help put the following in context.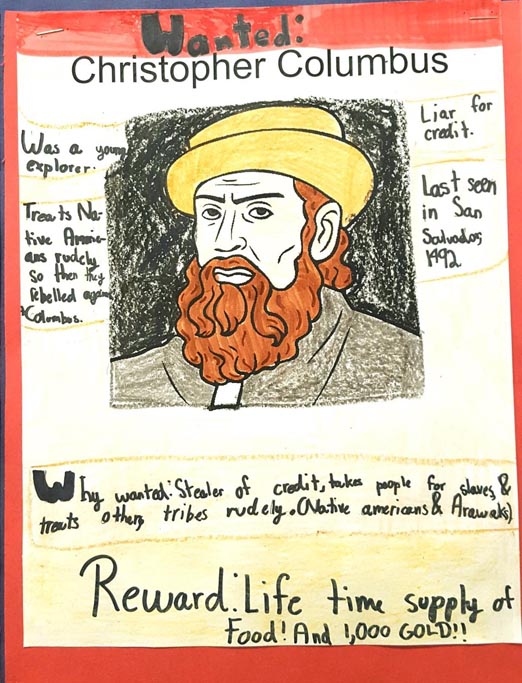 Is this lopsided interpretation of the new world explorers sanctioned by the Idaho State Department of Education? Or are individual teachers allowed to frame history as they see fit? Or, is this a common core standard that we are force fed in order to receive federal education dollars? If the answer to any of the aforementioned is yes, then this concerns me deeply.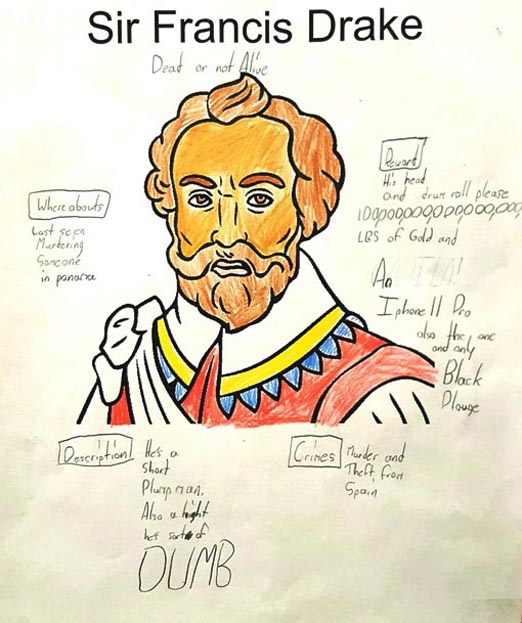 Why are we teaching our children that wanting these explorers dead is okay? Are those the values we expect from our future generation? Especially when, it would seem, the narrative has been skewed? A good percentage of these children, especially those who don't have parents that prepare their kids with critical thinking skills, are going to believe what their teacher says and will go on with life with an indoctrinated, depressed, view of our history and origins. Or, is that the intention?
If my daughter were attending this school, I'd ask her to provide evidence to warrant the charges depicted on these wanted posters. The charge that Sir Francis Drake is "Dumb" for instance, might not hold water. Or the charge that he was last seen "murdering someone" seems to lack specific evidence/context. Also, did the explorers do nothing good, or were they all evil all the time?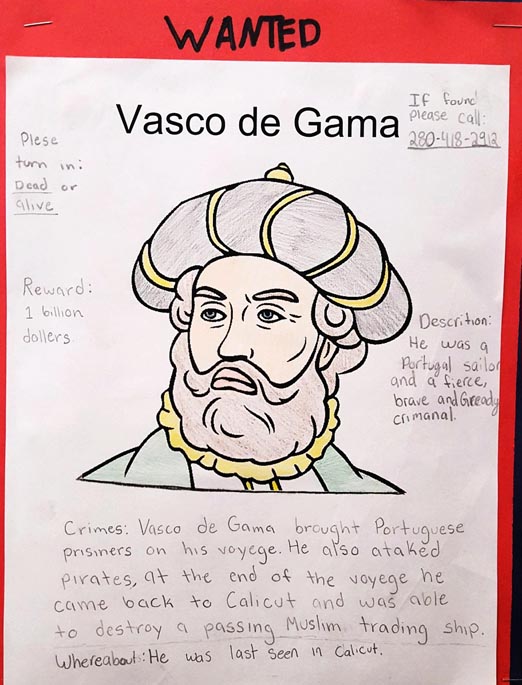 What about including positive info on the courage it took to blindly set sail into the ether, not knowing what might come of you? Or, maybe use this as an oppurtunity to remind the kids that taking risks can be a good thing. Or how about the valuable lesson of self reliance and working as a team, with regards to the crew in the middle of nowhere, themselves trying to survive.
And if it weren't for explorers coming here centuries ago we'd never have such luxuries as trying to blame those past explorers, while viewing their actions in the past, through the eyepiece of the telescope of the present, for deeds, though some unfortunate, gave us this very land to comfortably complain within.
I look forward to hearing all of your thoughts.
Sincerely,
Nate Murphy
BOISE SCHOOLS STATEMENT:
Given the abundant amount of information available today, we believe it is important that our students have the skills needed to accurately weigh all the facts and information before coming to a conclusion. To build these critical thinking skills, our teachers ask our students to seek knowledge and ask questions. Students are also expected to be able to discuss topics from many points of view and present a well-rounded and thorough examination of the topic.
Studying historic explorers is part of our social studies curriculum. A key component of our curriculum is to encourage students to look at history from multiple perspectives. The objective of the assignment was to study explorers and to look at this time frame through the lens of the relationship between the indigenous tribes and the explorers. Unfortunately, a small and selective portion of the assignment is being used to make a political point and is therefore misrepresenting the overall intent of the assignment. When the complete assignment was presented during parent teacher conferences, parents were supportive of the lesson.
We invite any parent or patron of the Boise School District who would like to learn more about how our students are being prepared to think critically to contact us at anytime.