Business
Sky Is The Limit For "Ludwig Tower"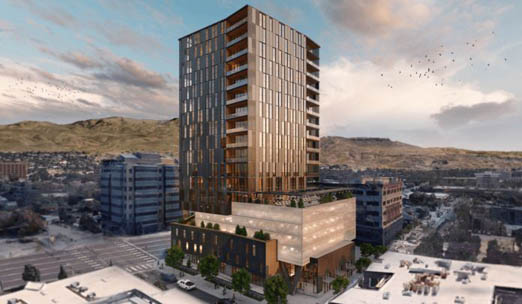 We don't have a TRUMP TOWER in Boise, but if things go right for a former City Councilor we could have a "LUDWIG TOWER".
Scot Ludwig, the former city councilor and CCDC member, is proposing to build a tall building in Idaho at 5th and Broad Streets. If approved, it could be 19 stories tall and at 235 feet a standout on the Boise skyline.
The price will be "upscale" at around $600 per square foot.
BOISE DEV has the official details of Ludwig's proposal.
Here's what the proposal calls for:
–44 condominium units, with most around 2,000 square feet. The top floor would feature two-story penthouse units.
–An elevator parking system. The building would include space for 192 cars, which would serve tenants in the building, as well as a building Ludwig partially owns next door. More on this below.
–An indoor/outdoor amenity level with yoga studio, fitness center, outdoor terrace and rentable guest suites.
–A series of four live/work units along the ground and second floors, facing 5th St.
–An exterior "cascading steps" feature would connect the 7th-floor amenity deck to a series of outdoor terraces above the live-work units.
The GUARDIAN has taken the liberty of offering a different view of the project than what the Planning and Zoning department will see and hear.
—Marketing slogan: "Luxury living for those who look down on their neighbors."
—A Rubic Cube mechanical parking garage. We have remote meetings, robotic bank tellers, drones for everything from photography to SWAT shotguns, so why not mechanical garages for luxury cars. No doubt electric models will get special treatment. We envision onthly "rewards" if you can retrieve your vehicle in under 10 minutes. No pick ups allowed.
—Target market will be rich people willing to pony up $600 a sqft to view rooftops and endless urban sprawl.
—Tenants will be bankers, lawyers, and investors from the likes of Chicago, New York, and Miami who are tired of looking at Lake Michigan, the Statue of Liberty, and palm-lined Florida beaches. "Tiffany, if we are going to live in a city, let's make it Boise!"
—Affordable housing" units are a MUST these days. They should sell for a mere $300 per sqft. Sort of like putting mobile homes on Warm Springs and skinny houses on the Harrison Blvd. median to show compassion.
—Barristas selling foo-foo latte drinks will have a chance to live on the lower floors above the garage and walk to work down two flights of stairs. They will have to make $50 per hour and coffee will be $20 a cup.