City Government
Boise's Top Copper Investigated
Boise Police Chief Ryan Lee is the subject of an investigation apparently stemming from a physical incident with one of his subordinate officers. The investigation by the Idaho State Police has been reported locally by several media outlets as well as national media.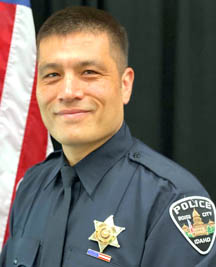 The GUARDIAN along with other media have been "tipped" repeatedly for several months.
THE ALLEGED INCIDENT
Most of the reports from either confidential or anonymous sources
say Chief Lee attended a department shift "briefing" in the patrol division. Supposedly Lee demonstrated a "hands on" physical restraint on a Sergeant which resulted in some sort of neck injury.
POST INCIDENT EVENTS
This is were the actions of those involved get a bit murky and frankly don't serve to lend confidence and trust in our city mothers and fathers who pledge to be transparent and manage our tax dollars and public servants.
Someone in authority, the police, city attorney, mayor's office, or the sergeant decided the Idaho State Police needed to investigate. They would be an "outside agency," but logically would investigate only a reported crime–in this case potentially battery.
When other media outlets queried ISP they were denied any information on an "ongoing investigation." This served to confirm ISP was in fact involved in an investigation.
When KTVB sought information from the office of Mayor Lauren McLean they were told it was a "personnel matter" and no info was released other than a statement endorsing Chief Lee as serving with dignity and honor, adding no action from the Mayor was anticipated.
LEGAL ISSUES
The chief has lawyered up with Charles Peterson as legal counsel. A source told the GUARDIAN that Lee will pay for the legal fees. The sergeant has filed a workers compensation claim for an alleged neck or spinal injury. At issue will be whether the officer "volunteered" or not to be the subject of Lee's tactical demonstration.
CONCLUSION AND ADVICE
The GUARDIAN questions the involvement of ISP in a "personnel matter" and it would appear from what we have heard for more than a month the incident has grown out of control, but there was no crime. If the sergeant was injured, he deserves to be compensated and treated for any injury. We have been told by reliable sources that he has been working normal shifts. Finally, commanders/supervisors should refrain from physical contact with subordinates, be they male or female.
INTERNAL STRIFE
Chief Lee comes from Portland and there has been noticeable grumbling from GUARDIAN readers and others on social media who are critical of the way police handled the riots, homeless, and crime there. Lee has told the GUARDIAN he came to Boise because he didn't want to be a part of that situation in what he calls "that other city." There is an element within Boise PD which is unhappy with the mayor's choice of Lee and with Lee himself.
OUTSIDE INFLUENCE
Since his arrival in Boise, Lee has hired several lieutenants from Portland, a captain from Oakland, California and a deputy chief also from the Bay Area.
Turns out the local BPD officers won't apply for the command positions because they make more money with overtime than lieutenants (who don't get overtime). They would also lose their union membership and have additional responsibility if they made the switch to "management." It is not uncommon for officers to earn in excess of $100,000.