City Government
Inflation Is Issue At Barber Park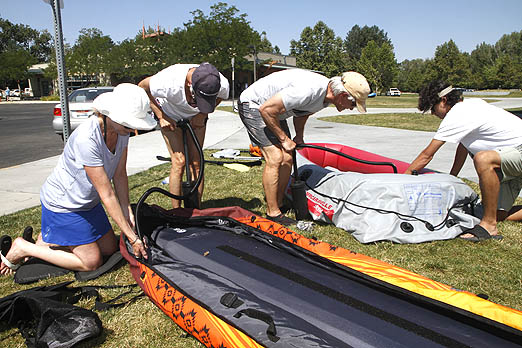 Officials at Boise and Ada County are at odds over inflation at Barber Park. Not financial or taxes, but air pressure.
Several Boise Councilors have had informal meets with Ada Commishes and County Park board members regarding the plug being pulled on free compressors three years ago at Barber Park.
Boise contends tubers and rafters unwilling to use "arm strong" hand pumps to inflate their water craft are trespassing in nearby Harris Ranch subdivision and poaching power from unsuspecting resident's electrical outlets.
Ada justified cutting the air flow as a COVID-19 precaution, citing crowding at the "pressure point."
HISTORY
Back when there were gas stations selling tires, folks would pay $1 or two and get an old inner tube to float the river. At least one tube was often reserved for beer and sodas. Parking was free in the grass and brush under the cottonwood trees and folks helped each other navigate the float to Ann Morrison Park. There was no Barber Park in those days.
Then along came well-intended Ada Commishes. They developed the park and not missing the chance to expand THEIR reach, Boise Councilors annexed all around the County Park, encouraging development and increased population.
Boise coppers lobbied the legislature to obtain jurisdiction over the beer and river. Prior to the adoption of city jurisdiction, waterways–even within a city–were governed by the local county sheriff and the state.
The county has joined the cash flow created by the river current, licensing vendors for rafts, tubes, buses, and snacks, BUT no air.
TODAY
Boise coppers are faced with citizen complaints of power poachers, illegal parking, and other annoyances. The Boise Fire Department saves lives almost daily using expensive jet boats and water skis.
The GUARDIAN has talked with officials of both the city and the county. The county says they have no plans to pressurize the air compressors. They say the park use is enhanced without the pressure of air. The city says free air would eliminate the parking and residential trespassing, even encourage safer water craft instead of flimsy plastic inflatables. Plenty of hot air!