Guardian Top Stories

Friday, November 27th
Dear GUARDIAN readers, I want to personally apologize for not posting anything lately, but we are aware of only the Orange Man's cries of "foul" on the election counts, and daily updates on mask vs no mask debates at all levels of government.
We will offer some additional topics, but remember, it is only for lack of material that we make the offer. Let's avoid COVID-19 and the Presidential race results please.
Here are some topics:
–Anyone else notice the plethora of California and Washington license plates lately. Are there that many visitors and newcomers or do our neighbors to the South and West just ignore the requirement to obtain Idaho plates?
–Are the California and Washington students paying out of state tuition or claiming Idaho residency without relicensing their rides?
–Is City Hall spending too much time and money on "affordable housing?"
What about forcing employers to pay wages commensurate with rent or housing prices? When citizens pay for "incentives" to builders and developers aren't we just subsidizing development?
–We need more schools and jail expansion due to GROWTH. It would seem logical for school administrators and the sheriff to oppose any incentives, "economic development," or other promotions aimed at attracting more population and demands on our infrastructure.
–Will the new Ada Commishes put a stop to recent schemes aimed at subverting the right of citizens to vote on public debt?
–Any thoughts about the special note on our Ada County tax bill referring to GOV LITTLE'S ON TIME TAX REDUCTION in bold type. We never seem to name politicos when there is a tax HIKE!
Meanwhile, wash your hands, keep your distance, and wear a mask–even if it is just to keep others from bitching.

Wednesday, November 18th
With rules for anti COVID-19 masks, new police and fire chiefs, and budgeting taking center stage, it takes the scrutiny of a GUARDIAN reader to notice Mayor Lauren McLean has placed her own stamp on the "Boise Brand."
We are no longer seeking to be the "Most Livable City In The Country." Today Boise's vision is "Creating a City For Everyone." That tagline now shows on official e-mail signature blocks from City Hall.
From the city website: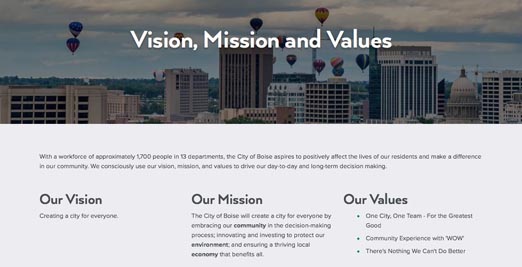 Not to be picky, but it appears they already botched the mission of "embracing our community in the decision-making process." After interviewing fire chief candidates and a public town hall meeting, the good mayor found her own chief, gave no prior notice to the public and a mere 20 minutes to the city council before announcing her unilateral decision. The community was certainly not "embraced."

Tuesday, November 10th
Idaho's Supreme Court has put a stop to jury trials until next year due to the COVID-19 virus.
"In order to address the continuing rise in the incidence of COVID-19 cases in the state, foster public safety, mitigate against the spread of the coronavirus, while recognizing the substantial resources being expended despite the high incidence rate preventing the holding of jury trials, pursuant to Idaho Court Administrative Rule 48, no jury trial, whether criminal or civil, shall commence in Idaho state courts before January 4,2021."
The DOCUMENT FINAL-Order-Re-Commencement-of-Jury-Trials-11-9-20

Friday, November 6th
Ada County's commishes are seeking to tighten the valve on a 22% rate hike being sought by Suez Water that would mean an average $80 increase in water payments annually for 98,000 Ada County citizens.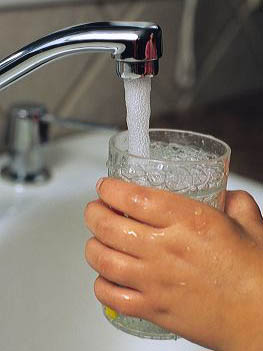 The commishes filed a motion to intervene in the rate hike request currently before the Idaho Public Utilities Commission. If approved as requested, the hike would mean a $10.2 million revenue increase for Suez.
UPDATE 11/11/2020
Boise City has filed to intervene, as their water costs of $500,000 per year would be substantially impacted and passed onto everyone's tax levy.
Two (2) law firms have also filed on behalf of water customers, with one being the Boise Bench issue of brown water.
Here is the county press release:
Ada County today filed a motion with the Idaho Public Utilities Commission (PUC) to intervene in a proposed rate hike filed by Suez Water Idaho Inc. The decision to intervene was approved unanimously by the Board of Ada County Commissioners. The proposed 22.3% rate increase would affect more than 98,000 customers in Ada County, and increase annual water bills by approximately $80.
"We believe this significant rate increase is excessive and comes at a time when families in Ada County are already struggling to make ends meet," said Ada County Commission Board Chair Kendra Kenyon. "We are grateful to have a mechanism in Idaho where counties, cities and individuals can intervene and make their case to the PUC for restrained and prudent rate increases."
Continue reading here…

Thursday, November 5th
Boise Mayor Lauren McLean made a point of using buzzwords like "transparency, listening, community outreach," and similar terms when she took office in January.



Now, 11 months later, when it came to naming a new fire chief to head a department with a $57,000,000 budget, she not only failed to allow citizens to be involved with the selection process, she denied the city's governing body–the City Council–a chance to weigh in on the selection of Mark Niemeyer to head the Boise Fire Department. Niemeyer has experience as the Meridian fire chief and as an Ada County emergency medical staffer.
To be perfectly honest, the Boise FD is in need of an outsider who is capable of taking the helm of a $57 million organization. The firefighting abilities of a chief are actually incidental to running the department. An operations deputy can easily be appointed or promoted from within.
We have plenty of competent firefighters serving the community. However, the budget-busting history of outside contracts, failure to maintain existing stations, building new stations, and construction of a training facility have left the department in disarray.
Boise needs an outsider chief who is well grounded in fleet management, union negotiations, personnel management, facilities construction, financial contracts (and law), and even politics.
BoiseDev has a good story on the CHIEF APPOINTMENT.
The GUARDIAN has it from the inside just like BoiseDev and there is a chance the Councilors will seek to reopen the selection process at the next meeting.