Guardian Top Stories

Thursday, December 12th
Exhibiting the precise type of behavior that lost him the Boise Mayor's race, Mayor Dave Bieter rehired a campaign staffer into a city job the day after his failed election bid.
BOISEDEV reports that Amber Pence served as Director of Intergovernmental Affairs until June of this year. As of December 4th, she is back in that job, a city spokesperson confirms. Pence reportedly was paid $91,500 per year as of March.
It will be interesting to see what types of government funded jobs are doled out to those fleeing the sinking ship.

Tuesday, December 3rd
POLITICAL COMMENTARY
By DAVID R. FRAZIER, editor
Boise City Council President Lauren McLean is now "Mayor-elect" after trouncing incumbent Mayor Dave Bieter in the Tuesday special runoff election.
The win was a foregone conclusion for most savvy observers, fueled by a deep seated "Bieter fatigue" among the electorate. Bieter was able to garner only 30% of the vote in the general election while McLean won nearly 46%. City ordinance requires mayoral candidates to win by 50% plus one vote.
McLean will be faced with myriad decisions as she takes the helm of Boise's local government. Here are some of the major items she will have to consider:
–Nominate a new police chief following the recent retirement of Bill Bones.
–Decide on the status of Fire Chief Dennis Doan who has been an active supporter and financier of Dave Bieter.
–Decide whether to go ahead with a legal appeal to the U.S. Supreme Court over the homeless ordinance. (Bieter had budgeted about $450,000 in legal fees)
–Fulfill promises to give citizens a voice in major decisions such as the proposed library and sports stadium. Citizens voted overwhelmingly to have a voice in future financial decisions during the general election.
–Make the rounds of other local governments–like ACHD and Ada County–with an olive branch to regain some cooperation and respect which was lacking with Team Dave.
–The GUARDIAN would like to see her eliminate the past policy of hiring ad agencies and public relations firms to promote pet projects rather than follow the established constitution and laws of Idaho.
–Do away with "under the radar lease agreements" on city property to avoid public auction and sale to the highest bidder.
–Advocate for impact fees on new development rather than force citizens to subsidize growth. Higher fees would also slow the exploitation of our community by developers.
–Eliminate "economic development" ads and stop paying businesses to relocate here with so-called incentives.

Friday, November 29th
When we got our Friday mail at the Boise GUARDIAN world headquarters it was a bit of a shock and a bigger amusement to see Donald Trump supporter and self-proclaimed "CONSERVATIVE REPUBLICAN" David H. Leroy supporting Dave Bieter in what has jokingly been called a "non-partisan" mayor race. Leroy is a fixture in Republican politics as former Idaho Attorney General and Lt. Governor. He lost a congressional bid last year to Russ Fulcher.
Mailers paid for by Responsible Government Fund arrived Friday.The IDAHO PRESS reports the outfit is a group of developers.
Incumbent Mayor Bieter garnered a mere 30% of the vote while City Council President Lauren McLean captured more than 45% in the November general election, forcing a run off Tuesday Dec. 3. City law requires a majority vote to elect the mayor (50% plus 1).
In the second piece of mail, the same group called McLean "radically liberal," listing such sins as radical anti-gun agenda, environmental extremist, and worst of all, a "registered north end democrat." It will be interesting to see how Team Dave is able to spin this one for their long-term Democratic team captain.

Tuesday, November 26th
The GUARDIAN has contacted Ada County Assessor Bob McQuade who offered us an example of what amounts to a "mathematical phenomenon" which leads to disproportionate increase in tax bills.
Here is his explanation for the prime reason for some of the surprise tax hikes.
"By statute the current Homestead Exemption is 50% of the value or $100,000, whichever is less.
Based on the current Homestead Exemption we find that:
For parcels valued less than $200,000 the exemption is 50% of an increasing market value.
For parcels over $200,000 the exemption becomes a DECREASING percentage of an INCREASING market value.
For example:
When a home is valued at $200,000, we find $100,000 (1/2 the value) is exempt, and $100,000 (1/2 the value) is taxable.
When that same home increases to a value of $300,000, only $100,000 (or 1/3 the value) is exempt, and $200,000 (or 2/3) is now taxable."
This is akin to the age comparison among siblings. When a girl is 10 and her brother is 5, she is twice as old. Twenty years later she is 30 and the brother is just 5 years younger at 25. Bro didn't really catch up, but sis went from being 100% older to just 20% older.
Assorted facts:
–Property is valued as of January 1. There is currently about a 1% increase in value per month, but the ASSESSED value is locked in at the Jan. 1 value.
–Homestead exemption applies to both the improvements and the land. Prior to 2006, it was broken down with the exemption applying only to the house. That led to manipulation, switching values from one or the other in some instances.
–Ada claims about a 95% accuracy in establishing true market values.
–Median value for a home in Ada County is $295,000. That means half are worth more and half are worth less. That figure is NOT the average price.

Sunday, November 24th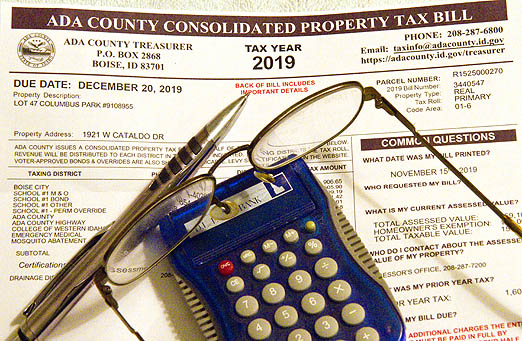 Just in time for Thanksgiving, Ada County's property tax notices have come out.
Any way you care to spin it, growthophobes who have lived here for any length of time are funding the growth to benefit the mortgage lenders, developers, contractors, planners, consultants, etc. Growth is costly and does NOT pay for itself.
There are no impact fees for schools, and the list of "incentives" we are forced by the politicos to pay businesses to locate in Idaho (and the Boise area) turns our stomach. The GUARDIAN growthophobe policy has long been to welcome any business or individual willing to pay their fair share of taxes and not seek welfare. "If you can't make it without taking cash from the citizens, please take your business elsewhere."
Our combined Ada County property tax bill here at the GUARDIAN world headquarters increased 35% over last year and all we have to show for it is more traffic, homeless people at every entrance to the super market, crowded schools, and mean spirited politcos who spend OUR money advertising and promoting the area as a destination for those who seek to exploit us.
The GUARDIAN has long complained about members of state and local government who abuse urban renewal, cater to developers, and generally spend "other people's money" with reckless abandon.
The oft heard cry of, "you can't stop growth" rings hollow when cities compete to attract businesses and form illicit partnerships with the private special interest lobbying entity known as the Chamber of Commerce. Realistic impact fees for police, fire, highways, and parks would serve to curb the developers seeking the best deals from local governments.
The public outrage at Boise's mayor and city council to get around the state constitution with massive spending schemes for a luxury library edifice and a sports stadium could easily be the first whisper of what could become an angry shout from citizens seeking some equity in the way they are treated.
Feel free to share your tax numbers with us (they are all a public record). Hint: to figure the increase subtract last year's tax found in the "common questions" box from this year's total. Divide the increase by the previous year amount to get the perc entage increase.
Example: 2019 tax of $3,000 minus the 2018 tax of $2,500 is a $500 increase divided by the original 2,500 which equals .20 or 20%.