Guardian Top Stories

Wednesday, February 20th

"SHELL GAME"–CREDIT: GUARDIAN READER
Once again, Boise City folks can't seem to get their facts straight. Mayor Dave Bieter told the council Tuesday that advisory votes for cities would not be allowed except in even numbered years by Idaho code.
According to an election guide for cities published by the Association of Idaho Cities, it looks like city advisory elections can be held in ANY year. (NOTE TOP OF PAGE 8 IN LINK). The proposed referendum vote can be held in odd year elections.
The question arose at the Tuesday council meeting where councilors were set to seek an advisory vote on the proposed library project and a sports stadium. That discussion was prompted by a petition drive seeking a vote to approve the projects. The acting city attorney erroneously called the proposed referendum ballot measure "unconstitutional."
All the maneuvering is clearly an attempt to avoid a bond election for public debt as mandated by the Idaho constitution. The politicos are attempting to launder tax money through the CCDC urban renewal agency instead of having a simple vote on these profound projects which will change the city in perpetuity.
We urge the council to trust the voters who elected THEM. It isn't the concept of a new library that has citizens up in arms, it is the scale, scope, and financing that is of concern. There has been way too much "quiet corruption" going on in the form of first class travel, one-sided agreements, and city officials leaving to profit from their public actions in the private sector.
In short, the only binding voice we have is that of the purse strings.

Friday, February 15th
Vista neighborhood residents were dismayed two years ago when plans were announced to build a massive apartment complex along Victory road east of the Vista hill leading to the airport.
Now the Vista neighborhood president is justifiably upset to learn Boise officials failed to share the news with the VNA when the owners of the 60 acre parcel contacted Boise Parks offering to make a deal for a park After plans for a massive apartment complex fell through.
By Henry Wiebe, President
Vista Neighborhood Association
In my opinion, the community "partnership" between the City of Boise and the Vista Neighborhood Association (VNA) is currently in search of an adjective (you get to choose the adjective at the end of this story).
Last week I obtained documents/emails from the City of Boise via PUBLIC RECORDS REQUESTS.
I am presenting this question in the spirit of "Energize", because I want to inspire community engagement to get involved, and for the City to work with our community in an open and transparent way.
My Investigation begins…
Marko "Butch" Simunich passed away July 22, 2016. His family farm (60+/- acres) on the Boise Bench, below the New York Canal, near Vista Ave represents an overwhelming opportunity for development.
Late in November 2016, Dave Kangus (former VNA President) sent me an email stating his awareness of Mr Simunich's passing, and noted Conger Management Group had a contract to purchase the farm. The details were scarce, and rumors raced. Some say Mr Simunich wanted a baseball field.
Early June 2017, Kangus shared his knowledge that the agreement with Conger failed. Reasons and specifics unknown.
Five month later, on October 23, 2017 Andy Mehl / A&M Siminuch LLP, which owns the family farm, contacted Doug Holloway (Boise Parks Director). Mr Mehl asked Mr Holloway via email if the City of Boise would be interested in discussions that included splitting the property and making a park. "Before it is sold to residential development, we are interested in talking to the city."
Holloway emailed the Mayor's office same day.
Screen Shot 2019-02-15 at 8.41.28 AM.png
The FOIA trail goes cold here. There's no answer via email from the Mayor, and no record of reply back to A&M Siminuch either.
23 days later, another thread emerges via email between Mr Mehl and Jennifer Tomlinson, Parks and Rec Superintendent.
Screen Shot 2019-02-15 at 9.41.00 AM.png
This thread ends without clarity, just like the previous. It appears that Mrs Tomlinson was asking about the price, and Mr. Mehl restated their intention to sell and checking to see what interest the City of Boise has in it.
Six months later, May 1, 2018, A&M Simunich makes application to split the property (permit ROS18-00045). The Vista Neighborhood Association was not notified of the split for reasons found in the nuances of the type of split performed. And no one from the City felt it important to call or email the VNA because they weren't legally required to do so.
As of today, this application is on hold because of a Simunich family lawsuit moving through the courts. I am not sure when this is expected to be resolved.
I became the VNA President in 2018. This story sprang into my focus after my phone call with David Moser, Associate Planner with Boise City. David was the 5th Boise City employee to contact the VNA seeking our annual report, which wasn't due for two more weeks. The penchant need for our report left me wondering, so I called him. In our chat, I was sharing the overwhelming responsibility of keeping up on development notices, zoning changes, and hearing dates (the VNA received over 40 in 2018). Mr Moser advised me to triage and keep an eye on bigger issues, like the "Simunich" parcel. In response, I asked Mr Moser who currently owns the farm, and what did he know about it? He said very little. He peaked my interest. This is when I made the records request to the City of Boise to learn more.
So here we are. Still mostly in the dark, and forcing our way to become informed. I feel disappointed to learn the City of Boise was asked years ago if they'd like to buy it, and zero communication on this matter included the VNA. It begs the question, as a Neighborhood Association, what purpose do we serve? How are we partners with the City of Boise?
When the potential for a park surfaces, shouldn't we be included in the conversation(s). Obviously we don't have money to pay for it, but we're told to get involved because we're stakeholders. It stings to learn about these sorts of opportunities AFTER the fact. When this happens, it renders community participation apathetic and uninspired.
Which adjectives would you choose to describe the partnership between the City of Boise and VNA? Perhaps "MUSHROOM"…fed horse pucky and kept in the dark!"
SEE LETTER to Vista residents Continue reading here…

Sunday, February 10th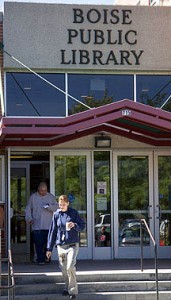 With pressure mounting from the GUARDIAN, former BSU Prez Bob Kustra, Vanishing Boise, and Rep John Gannon, Boise City councilors say they will discuss a possible public vote on the proposed library and stadium. See IDAHO PRESS story for details.
There is a petition drive underway to obtain 5,000 signatures that would put the question on the ballot.
We are "cautiously optimistic," about the council's decision. The devil is in the details. The vote must be a binding vote that will either open or close the public purse strings for the two projects.
Citizens have too often been manipulated with surveys, advisory votes, and claims that electing a politico gives that person approval for any and all actions.
ACHD claimed citizens favored a fee hike in passenger cars while exempting trucks over 8,000. However, when an actual binding vote was counted, the measure failed miserably.
Any ballot measure should be clear and concise: "Shall Boise City spend $80 million in tax money for a library?" The poorly worded contract with architect Moshe Safdie ignores common safeguards for Boise taxpayers, but a vote to either go forth or halt the project will have the force of law and transparency.
These projects are so "profound" they need citizen approval and authority for any debt. Circumventing the Idaho Constitutional requirement for citizen approval of debt is unacceptable.

Monday, February 4th
Its no secret the Idaho Correctional facility south of Boise has had more than its share of problems in the recent past.
In an attempt to encourage the assorted thieves, rapists, killers, and other assorted felons to behave themselves, prison administrators sent a memo to inmates and staff February fourth, announcing a behavior plan straight from grandmothers across the country.
If inmates are not written up for rule violations for a period of 90 days they will be given a chocolate bar. Not just ANY chocolate bar, but a MR. GOODBAR!
Distribution will be quarterly. Fourth quarter of 2018 should be in time for Valentines Day.

Wednesday, January 30th
It took a couple of weeks, but the new Ada Commishes, Kendra Kenyon and Diana Lachiondo, have apparently made some personnel changes. Let's hope they did a better job of crafting their staff than the previous pair that cost taxpayers about a million and a half dollars as a result of a lawsuit.
Chief of Staff Larry Maneely no longer appears in the directory. Benny Poole, a long time employee and subsequent temp agency hire who oversaw public records requests also has disappeared from the Ada courthouse.
Seems there was something in the air at the Ada Air Quality Board where requests to speak to Kent Goldthorpe are met with, "He no longer works here." Goldthorpe is also an ACHD Commish and the air quality gig was his day job.
Ada County has an "at will" employment policy.