Guardian Top Stories

Monday, November 24th
Ron Harriman is a guy who tends to use science and math to make his points. Here is his take on recent calls for a TRANSIT SYSTEM in the Treasure Valley.
By Ron Harriman
My research has led me to conclude that in a basically rural area, transit fares will only cover 8% of the costs.
Urban costs Are:
TRIMET which is Portland's transit system records a 2013 income of $152,698 million from fares and a cost of $577,860 million a net loss of over $425,162 million a year which was partially paid for with an payroll employee tax of $259,233million.
UTRAX which is Salt Lake's transit system had an operating income of $52,044 million, an operating expense of $378,224,993 million and a loss of $326,180,793 million during 2013, which was paid by a local sales tax. Each rider costs the system $8.50 after fares were totaled.
DENVER'S Regional Transit RTD cost 50 times the cost of highways when built and is paid by a sales and use tax. Denver's 2013 transit balance sheet shows that total fares were $117,841 million, but the costs were $511,481 million a loss of $388,441 million.
When I last looked, constructing a transit system in the Treasure Valley would have cost $1.1 billion and would lose a minimum of $91 million a year with a more likely figure of $131 million.
For Valley Ride, the public's fare cost for those using the bus today is $8.00+ after the fee is deducted. However, the ACHD Commuter Van is cost efficient with fares equaling the cost.
There are some salient facts that defeat the profitability of transit. First, 90+% of the businesses in Idaho are small business wherein there are less than 20 employees. Second, there are no consolidated large employer areas which could use mass transit. Third, it would clean the air about ½ of 1%, based on EPA date. (Data from the U.S. Census average of commuter use is 3% of daily travel. The Idaho EPA identifies vehicle emissions as contributing 20% of the air pollution. 20% x .03=.6 of 1%.) With these existing factors, where would the transit take the commuters?
We need a reliable bus system and we will pay for it, the rider won't. I believe that the cheapest public transportation is actually the Private Cab.
The above listed data is recorded budget data from Portland's TRIMET, Salt Lake City's UTA, and Denver's RTD) Facts are that in a basically rural area transit fares will only cover 8% of the costs. * (Rural Transit Fact Book 2014)
Mr. Harriman describes himself as a community and political activist living in Nampa and Chairman of the Tax Accountability Committee of Idaho

Tuesday, November 18th
Four years after the GUARDIAN revealed the Idaho Land Board was operating a commercial storage business, a consultant has concluded the state should stay out of commercial investments.
"It's the concentration issue, the lack of diversity," explained consultant Janet Becker-Wold of Callan and Associates. "If something happens to that property, then your whole portfolio can suffer."
The Land Board and its director, George Bacon, claimed the Idaho Constitution mandated such investments. We were previously informed by spokesmen at both the Governor's office and Attorney General that commercial property was a sound place to invest endowment money which funds education in Idaho.
We have been critical of the state owning more than 20 commercial rental properties in downtown boise–all are off the tax rolls. One of those investments is Ten Barrel Brewing which was recently purchased by the Belgian beer company, Anheuser Busch. The majority of the Land Board's commercial rental property is in Boise and the tax-free status deprives the city, county, schools, and Ada County Highway District of local tax revenues.
The new spin will be interesting in light of the strident past defense.
Continue reading to see how the Director defended the purchases four years ago. Continue reading here…

Monday, November 17th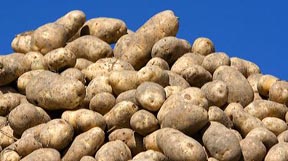 In what appears to us to be a bungled marketing attempt for a genetically modified potato, the J.R. Simplot company raises the specter of cancer in potatoes currently being marketed to and by McDonalds.
The company claims the new "Innate" variety has less asparagine, which has the potential to become a carcinogen – acrylamide – when fried.
McDonalds has said it will not use the new variety in its fast food stores. Does that mean they will continue to use a potato that has the potential to become a carcinogen?
Why in the world would the leading potato product producer bring up the "C word" in an effort to market a new variety of potato? We probably haven't heard the last of this one.

Saturday, November 15th
Despite repeated promises to hire an ombudsman to review "critical incidents" and other complaints within the Boise Police Department, Boise's mayor and city council has been more concerned with squeezing 10 foot three inch buses into 10 foot traffic lanes.

More than a year ago Councilor Maryanne Jordan told the GUARDIAN, "The position is important to the community. Next steps should be forthcoming shortly." Rather than providing an ombudsman, the council has been fighting with ACHD over hockey pucks and parking meters.
We equate the ombudsman–or a police commission–to an insurance policy or fire department. You hope to never need their services, but being "covered" makes good sense.
Coeur d'Alene's new chief has a great idea: Have citizens serve on a review board. The GUARDIAN has advocated civilian participation with the coppers for more than 25 years. Here is the Coeur d'Alene Facebook post:
Coeur d'Alene Chief of Police Lee White is seeking citizens interested in serving on a Use of Force Review Board. Since his hiring in September of this year Chief White has made it clear the appointment of civilians to this board is a priority. "Citizens serving in this capacity will increase transparency, accountability, and public input into police operations." said White.
This standing board will meet quarterly with police personnel. The members will rotate in order to have more citizens involved. Interested citizens will receive information on basic law enforcement training as well as case law as it pertains to use of force, what constitutes excessive force, and police policies and procedures.

One of the positive notes former Ombudsman Pierce Murphy left behind was a huge reduction in complaint…and police shootings. Murphy now is working for Seattle attempting to clean up that department which is under U.S. department of justice orders.
All of this has increased urgency with the upcoming retirement of Chief Mike Masterson who will leave as the second longest serving chief in the department's history. John Church served from 1968 to 1983.

Wednesday, November 12th

We have been on the road delivering the 12-year-old family car to a relative in Florida. The drive prompted a bunch of observations worth sharing from the 3,000 drive.
–Speed limits have increased to the point there is little risk of a ticket. The old 55 mph has been replaced with 70 m.p.h. on state highways in Nevada and Texas. Interstate speed limits in Utah, Idaho, and much of the 800 miles of Texas I-10 are up to 80 m.p.h.
–Trucks out number cars on many of the highways. Amazing how much is shipped by truck.
–Big "unit trains" of nothing but containers are the order of the day and the volume of freight is staggering.
–Arizona and Texas seem to have more money than they know how to spend. Huge freeways, bridges, and interchanges abound in Phoenix and Houston. It seems like Boise is seeking an "impossible dream" to attract more people, cars, and businesses and attempt to preserve the small town feel along with being bike friendly. Urban sprawl and small town just don't mix.
–New Orleans seems seedier than we recall from past visits.
–America is really really BIG! The vast open spaces of Nevada and Arizona offer a sense of freedom and serve to make us realize just how small we are in the big scheme of things. We went from the mountains to the desert, across fields of cotton and through orange groves over a five day journey.
–Part of the Florida panhandle is actually in the Central Time Zone.
–Southern pecan candy is pronounced PRAW-LEEN rather than PRAY-LEEN. Mississippi has lots of local candy stores.
–A chain of convenience stores in Texas called Buck-ees has locations with 60,000 square feet, 60 gas pumps and 40 urinals in the men's restroom. They sell all kinds of jerky and locally produced candy and snacks.
–New Mexico has spectacular sunsets!