Guardian Top Stories

Tuesday, June 30th
EDITOR NOTE: In a meeting July 1, the ACHD commishes changed directions on last week's street decision. They voted to reconsider the June 24 action as requested by BSU. An insider tells us that doesn't mean the vote is likely to change and the matter "starts from scratch."
Seems that Boise State University officials won't take NO for an answer when it comes to depriving citizens and motorists from using four City streets near the campus.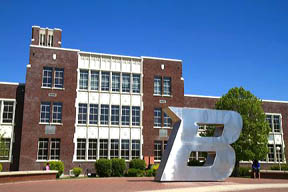 On June 24 the Ada County Highway District commissioners in a video (zoom) meeting voted 3-2 to deny a request from BSU for "Vacation (closure) of public rights-of-way for a portion of West Belmont Street, South Vermont Avenue, South Manitou Avenue, South Grant Avenue and the alley right-of-way located in Blocks 13, 19 and 22 of South Boise First Subdivision."
A letter was sent to the ACHD yesterday asking for reconsideration of the denial by the elected board, claiming that since no one appeared at the meeting in opposition to the proposed closing the board erred.
For the BSU letter click here Continue reading here…

Monday, June 29th
Mayor Lauren McLean is offering up a major cut to the city budget, but due to increased property values, most homeowners will still see a tax hike for the coming year.
Several of the proposed cuts are long overdue such as an extra command position in the fire department. Even so, she is planning to ask for 17 new positions within the city government on a permanent basis.
Margaret Carmel at the IDAHO PRESS has crunched the numbers and at the end of her story makes note of numerous $50,000 to $600,000 items which are potential topics of discussion including "diversity, equity and inclusion initiatives."
If you want to watch or speak at the annual number crunch, here's what and when:
BUDGET WORKSHOP 8:30 a.m., June 30
Watch online at cityofboise.org/virtual-meetings
Public hearing on FY 2021 budget: July 21

Monday, June 29th
If Boise coppers enforce this law, all it will take is an officer on foot at Capitol and University to write tickets.
IDAHO STATE POLICE NEWS RELEASE
Beginning Wednesday, July 1, 2020, drivers throughout Idaho will recommit to safe, responsible driving by following a new law meant to keep drivers engaged while behind the wheel.

The new Idaho State Code 49-1401A requires electronic devices be in hands-free mode while driving,
including when stopped at a red light or stop sign.
In other words, with few exceptions, the new hands-free law makes holding a cell phone illegal while operating a vehicle.
The new law, HB 614, is intended to "address safety concerns associated with a significant portion of distracted driving crashes."
"Education of motorists is key." Said Col. Kedrick Wills, Director of the Idaho State Police.
"Idahoans want to be responsible and to be good drivers. This law is another way to remind all of us we need to pay attention to the road when we're behind the wheel. As law enforcement, we can remind them with education or enforcement. We're starting with what we prefer, education."
EDUCATION FIRST:
This law applies in every city and county throughout the state. Troopers, officers and deputies will issue warnings from July 1, 2020 to Dec. 31, 2020. Citations can be issued beginning January 1, 2021.
WHAT DRIVERS NEED TO KNOW:
– Drivers can only use electronic devices and mobile phones in hands-free mode;
– Drivers are only permitted to touch devices to activate hands-free mode;
– Drivers are not permitted to hold or support any electronic device/phone;
– Activation of GPS, voice to text, and making or receiving calls is permitted with one-touch or voice command;
– Handheld use is allowed only if the vehicle is both stationary and not located in a public travel lane, or in the event of an emergency;
– Drivers are not allowed to touch a device for texting, emailing, apps, video, or internet use;
– Should a driver receive two distracted driving violations in three years, the new law states insurance companies can consider those violations when establishing insurance rates for a driver.
"We're in this together, every motorist on the road. Our lawmakers have seen the need to give law enforcement in every jurisdiction, cities, counties and the state, a greater tool to ensure traffic safety. But the greatest power lies with each individual motorist who gets behind the wheel who makes the conscious decision to be engaged while driving.
"ISP will do our part to enforce when necessary, but we're asking every Idaho driver to take it upon yourself and take responsibility for your own safety and the safety of others around you. Keep your hands on the wheel, your eyes on the road, your mind on driving, and together we'll keep Idaho safe." Said Col. Wills.
PENALTY:
1st offense – $75 fine
2nd offense within three years – $150 fine
3rd and subsequent offenses within three years – $300 fine. Three offenses in three years can also lead to a license suspension of up to 90 days.
DEADLY DISTRACTIONS:
Idaho drivers are encouraged to SHIFT their behavior and focus on engaged driving. Unfortunately, distracted driving remains a danger and over the past decade has morphed from random incidents to a persistent and dangerous problem.
– 241 people killed in Idaho in crashes attributed to distracted driving between 2014 and 2018.
– In 1 in 5 crashes in Idaho, distracted driving is contributing factor.
"Things can go wrong very quickly when you take your eyes off the road for even a few seconds.
"Sadly, Troopers have come across crashes where the driver's decision to use a mobile device resulted in life or death consequences. Anyone who has seen, been involved in, or is tasked with responding to these crashes understands this law addresses safety for every single person who drives on our roadways." Said Col. Wills.
A STATEWIDE STATUTE:
The new ISC 49-1401A will preempt all local ordinances in cities who already have hands-free ordinances. In 2012, the legislature passed a law that prohibited texting. This statute will be repealed once House Bill 614 takes effect July 1.

Wednesday, June 24th
The GUARDIAN has confirmed that Boise City is funding sanitizing services and renting rooms for members of the homeless community at the Red Lion Downtowner.


An unofficial source told us the entire second floor and about 46 rooms were occupied by homeless residents. That source also inquired at the registration desk about the situation, but their questions were basically dodged.


A city spokesperson told us, "We are also paying for the rooms, but are submitting the incurred costs to the State for reimbursement via the CARES Act. This is a plan we've had in place from the beginning to provide the necessary medical care to our most vulnerable community members and ensure the safety of all residents amidst the pandemic."
First responders were sent a city memo last Thursday advising them of at least one positive COVID test at the Downtowner and warning them to take appropriate precautions responding to calls at the hotel.
Meanwhile, we got this evasive response from the Central District Health District on Friday despite the alert sent to city first responders. "CDH is not able to confirm whether a homeless community member was ill at the Red Lion Hotel. I can tell you that to date there has not been a public exposure associated with a person living homeless in our jurisdiction."
The message from CDH went on to say, " However, from a public notification standpoint, if someone were to test positive for COVID and were staying at a hotel, that alone does not constitute a public exposure or need for a widespread notice. When, through contact tracing, we identify people who were exposed by someone infected with COVID-19 (we use CDC's guidance to determine exposures), there are a number of communication channels we or an impacted business might use – a widespread public notice is typically only used when we don't have a way to directly communicate with each person that the ill individual interacted with while infectious."
Today the IDAHO PRESS reports 11 members of the homeless community have tested positive and none are at the Interfaith Sanctuary. We suspect they may have been at the Red Lion Downtowner, but the location of the COVID outbreak was not disclosed.
EDITOR NOTE–
When we began investigating this story there was only a single report of a positive COVID test. We questioned hospitality and travel providers about the moral and ethical duty to inform patrons of homeless and potential health hazards. All of them said it would be wrong to not inform guests of the potential hazards. It now appears that at least 11 people have tested positive.
We don't have any answers to the pandemic, but felt compelled to make the facts known to the public.

Saturday, June 20th
After things opened up in Idaho a couple weeks ago the GUARDIAN decided it was time to make a road trip to Michigan. Idaho had about 80 reported COVID deaths and restaurants were opening on a limited basis.
WELL! It was nearly impossible to find a sit down food place anywhere in the upper West and Midwest. In Michigan (6,000 deaths) Minnesota (1400), and Wisconsin (700) folks are hunkered down in most spots. We had people confront us as we wore a mask and ask, "Do you really believe in this crap?" At other locations convenience stores were open only via a small window to pay for gas. We concluded the "belief" is based in liberal and conservative politics.
We drove nearly 6,000 miles and couldn't help but marvel at the green beauty of the USA, the vastness of the farm land, and richness of the diverse culture.

We drove two lane highways whenever possible and observed the small town cafes were closed and often up for sale. Many small towns did away with high school graduation, so they displayed senior photos on lamp posts like Christmas decorations (someone cashed in on that) to honor the grads.
At Curtis, Michigan the local Tally Ho pub served a limited menu to a house packed with camouflage-capped customers and not a mask was in sight among customer or staff. Just 40 miles north on the shore of Lake Superior the old hippies at Grand Marais were the poster children for COVID selling coffee and cinnamon rolls out of a VW Microbus, clad in masks and gloves.
Our Boise neighbor graduated from college in May and was hired by GM as an engineer. About the only corporate contact she has had is via a company-issued computer. Her final exams were all via computer and graduation was also a video event. We predict these things will be common in the future, even without a pandemic.
Gas was as low as $1.69 per gallon and never over $2.04. No surprise, but Boise had the highest gas price we experienced. Traffic in the rural areas was pleasantly light. We did notice a fair number of "family vacation" vehicles in the Bad Lands, Mount Rushmore, and Grand Teton national parks, but few hotels displayed "no vacancy" signs.
Local news and public radio stations repeatedly featured interviews with police chiefs, police union leaders, black lives matter advocates, and assorted social workers and psychologists. Thanks to body-cam and security videos, the public is able to see actual events. The actions of the rogue coppers and the destructive protesters will permanently change our society.