Guardian Top Stories

Sunday, January 22nd
Residents of the Boise Bench have little chance of winning a battle against the noisy F-35 fighter jets now that Gov. Butch Otter has joined forces with Boise's Team Dave to combat the anti-aircraft volleys being fired from folks seeking a little peace and quiet.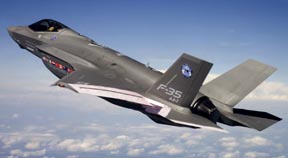 With unlimited resources in the form of citizen's tax dollars at their disposal, the establishment politicos have nothing to fear from those who oppose noisy fighters over Boise.
Betsy Russell wrote last week in her SPOKESMAN REVIEW blog that Otter asked for $100,000 in citizen money to lobby for the F-35 which is roundly opposed by residents of the Boise Bench, especially near the airport.
Russell wrote, "Otter added a $100,000 supplemental appropriation request for the state Department of Commerce to promote and lobby for the recruitment of an F-35 mission and other future missions at Gowen Field, as the current A-10 mission winds down." The money will come out of the Dept. of Commerce budget.
"Gowen Field is among five candidates for the F-35 mission," said Otter budget chief, Jani Revier. Revier told the Joint Finance-Appropriations Committee. The funds would be used to educate the public and key decision makers at the federal level "of the benefit of choosing Idaho." The GUARDIAN has publicly challenged the Air Force, Air National Guard, and city officials to invite a couple of F-35's to fly in and out of Boise at full power, using afterburners (and not) to demonstrate just how loud the aircraft may be. ALL REQUESTS HAVE BEEN IGNORED.
Otter could have his "Idaho mission" and not cause heartburn for Boiseans if he would either ground his dogfight or promote Mt. Home as the logical site for the noisy fighters instead of the most densely populated area in the entire state of Idaho. Regardless, it is downright WRONG to use $100,000 in public money for a public relations campaign to disarm citizens who oppose noisy fighter jets over Boise.
Now, they have yet another "open house" at the airport to promote their agenda. Sessions are set for Wednesday Jan. 25 at 5p.m. and again at 7 p.m. Instead of actually hearing from citizens, the airport announcement claims to offer "choices for noise mitigation." We doubt the choices will include parking the birds at Mt. Home AFB.
The GUARDIAN and most of the folks who have an interest in the F-35 effort oppose only the basing of the loud aircraft at Gowen Field. The general consensus is that Mt. Home Air Base is a much more logical spot for the aircraft. President Donald Trump has fired a few missiles of his own at the F-35 project which is the single most expensive defense project in the history of mankind.
Boise resident Dan Marler has been active opposing the project and forwarded his own "education material" to citizens.


Monday, January 16th
By DAVID R. FRAZIER, editor
The recent news that Ringling Brothers "Greatest Show On Earth" will fold the canvas for the final time
May 16 brought back a flood of memories beginning some 63 years ago in Lansing, Michigan.
My Dad was a photojournalist and he pulled me out of Mrs. Barnes' second grade class at Bretton Woods School to go with him as he photographed the early morning arrival of the Ringling Bros. circus. Wagons drawn by horses and elephants pulled the entire show–tent, bleachers, animal cages, ticket office, EVERYTHING from the rail siding to the fairgrounds.
Mom scolded him saying it was setting a bad example to take a kid out of school for a circus. He responded with, "Honey, it's HISTORY. He may never get a chance like this again." That was in 1953.
What a day it was! I got to meet Emmett Kelly the famous "Weary Willie" clown who seldom smiled. Kelly gave me a little paper about the size of two business cards with a poem he had written about a smile. He said "a smile is rest to the weary, comfort to the sick, and cannot be bought sold or stolen–it can only be given away." Over my writing career I have shamelessly paraphrased his verse.

Dad also found Clyde Beatty the famous animal trainer who entered a cage with lions, tigers, and all sorts of big cats. He wore a pistol, cracked the whip, carried a wooden chair and was generally the Evel Knivel daredevil of his day. I offered a shy kid limp-wristed handshake and never really thought much about Clyde until 15 years later.
I had just returned from my Army service in Vietnam and was working for the Ypsilanti Press outside Detroit when my editor told me the CLYDE BEATY-COLE BROS. CIRCUS was coming to town and he wanted my to "get some pictures." (Clyde Beatty had passed away a few years earlier)
No longer the shy 7-year-old, I located the head clown and asked if I could do a "clown's eye view of the circus," in photographs. Of course I told the head clown I had met both Clyde Beatty and Emmett Kelly "years ago." He painted me up and with some gear from the local fire department, I was ready to perform. I snapped photos as we did the walk around, sat on some old ladies laps, and acted goofy for about 6 minutes.
These days with Emmett, Clyde, the elephants, and now even the Greatest Show on earth gone forever, it is really nice to have fond memories and some photographs. Both are valuable.

Friday, January 13th

In the wake of the worst series of snow storms in modern history, Boise Mayor Dave Bieter is calling for the demise of the Ada County Highway District.
Long critical of ACHD, Bieter has taken to the airwaves of KBOI AM 670 radio and the Op-Ed page of the Idaho Statesman to make his case.
What we previously thought was a great example of mutual cooperation between local government agencies during the snow emergency is obviously just another Team Dave opportunistic political maneuver seeking increased control and power over the lives of Boise citizens. The citizens of ALL of Ada County voted to create ACHD due in large part to the greed of past Boise administrations.
In the 1970's Overland Road west of Cole was the poster child for pothole damage. Ada County Commishes refused to rebuild the ancient road because they claimed, rightly so, that if they spent the county money to build the road, Boise City would, "just gobble it up" through annexation. The GUARDIAN has long felt Idaho cities should not be allowed to annex people into the city against their will. Idaho is one of the few states that allows the practice.
We citizens went to the the polls and created a county-wide agency. We also created a county-wide ambulance service. It made sense and it still makes sense on both counts.
Given Bieter's reasoning about the inability of ACHD to cope with an epic snow storm, the same would apply to the Boise Fire Department's inability to cope with major fires. Every time there is a blaze in the foothills or a major structure fire, Boise calls for the "mutual aid" of nearby surrounding departments. Boise also returns the favor when needed. It is done in the spirit of cooperation and good government.
Bieter could use a lesson in the philosophy of "mutual aid."
UPDATE 1/14/17
ACHD Commish Kent Goldthorpe reports, "We're entering new territory as of yesterday when one of the ACHD contract plow operators was assaulted and punched by a citizen. An arrest was made but I'm wondering if the official rhetoric we are hearing and seeing is contributing rather than helping the problem? Pretty easy answer in my mind. And yes, I am digging myself out as often as anyone else."

Sunday, January 8th
Why are so many people dying on Idaho highways?
The answer is probably within reach, or right in your hand. It's broadly described by Idaho State Police as "distracted driving."
Whether it's a smartphone, computer, GPS, MP3 player, or reaching for a VAPE pen, people are dying because they are preoccupied with a tech gadget and not their driving.
In a survey conducted at the request of BOISEGUARDIAN.COM news blog, commanders in each of ISP's six districts were asked to identify the "deadliest highway" in their district along with the proximate cause of fatality crashes investigated by troopers in 2016.
While the deadliest roads obviously varied between districts, responses like that of Capt. Steve Davis in Idaho Falls were typical: "An overwhelming contributing factor to most of our accidents has been driver inattention."
Even more frightening was the inattention of those big-rig drivers. Davis noted, "All four of the commercial vehicle (fatal) accidents to which District 6 responded involved some type of inattentive driving."
As for the most common causes of crashes statewide, ISP listed "failure to maintain lane, going off the roadway and overcorrecting, driving left of center, inattention, or distracted driving." All add up to watching something other than the road ahead.
The two lanes of U.S. 95 in the Coeur d'Alene area were the deadliest in District 1 with several head-on crashes, according to Capt.John Kempf who also noted five fatalities involving commercial big rigs.

In the Lewiston area U.S. Highways 12 and 95 tied with five fatalities each.
In the Twin Falls district, Capt. Ismael Gonzales reported, "among all 36 fatal crashes occurring in District 4 during 2016, deceased victims correctly wore their safety restraints only 12 of 35 times possible."
Even if people can't pay attention to their driving, they have a better chance of surviving if they at least wear their seat belts.
As for the deadliest highways it is no surprise that busier routes had more fatal crashes. It is interesting to note that ALL of the limited access Interstates were the deadliest routes in each district. I-84 in southwest Idaho took first prize in the death count with crashes causing 15 deaths investigated by ISP in the Boise area.
District 5 at Pocatello reported I-15 near Blackfoot as the deadliest stretch of highway and Capt. Eric Dayley said, "The most common cause of fatal crashes in District 5 is drivers drifting off the road, overcorrecting, and rolling."
The GUARDIAN survey focused only on ISP fatality investigations. However, a total of 253 people lost their lives in crashes investigated by all police agencies during 2016. That is the most deaths on Idaho roads since 2006. In 2011 we hit a modern day low in traffic deaths of 167. Idaho Transportation Dept. has a DASHBOARD full of highway information.
Crashes in cities and more populated areas have other deadly causes involving stop signs, failure to yield, following too close, pedestrians, speed in congested areas, DUI, etc.

Friday, January 6th
The recent cold snap and "arctic temperatures," has prompted weather reports citing readings of "negative 9" or similar figures.
For those over the age of 40 there is a slightly unfamiliar ring to these NEGATIVE numbers. For the older set it was always "nine below" or "nine below zero," even though you didn't need to include the zero.
Today it became apparent why the younger set keeps referring to the "negative nine." Their reference is to a DIGITAL thermometer that shows a -9. Oldtimers used mercury thermometers or the red alcohol gauges which displayed a vertical scale which on very cold mornings indicated. "9 below 0."
Those same youngsters have never "dialed" a phone either. They "press" the numbers. The time is cited as "Nine fifteen," rather than the old fashioned, "quarter after nine."
Amazing what comes to mind when you get snowed in.