Guardian Top Stories

Wednesday, February 21st

Our first thought when we read the Air Force memo was "retaliation for opposing the F-35 bed down at Gowen Field?" Our next thought was "the AR-15 pales when compared to the F-15."
The memo we received from Mountain Home Air Force Base via GUARDIAN readers is potentially as explosive as the missiles on the deadly supersonic fighter jets the United States military plans to fly in "close air support" training over Boise and eight other Idaho urban areas.
No doubt the fighter jets with their laser-guided bomb simulations will be the "sound of freedom" to many of our readers. According to the Air Force, the ground staff will be in civilian vehicles and not wearing uniforms.
As long as they keep their bomb runs over St. Luke's hospital, the State House, City Hall and the North End residential areas, the realistic training is probably worth the risks of high speed low level flights.
We would be eager to hear from local officials–including Team Dave–to learn if they were aware of the plans, their reaction to war games over the most densely populated area between Salt Lake and Seattle, and if they knew why haven't they told the citizens.

The official PROPOSAL

Wednesday, February 21st
Opponents of new subdivisions are organizing to make their voices heard. The following is an excerpt of a letter sent to the Ada County Highway District (ACHD) protesting a proposed subdivision along Victory Road West of Maple Grove.
"Southwest Ada County Alliance (SWACA) and the residents that live within it's boundaries are becoming increasingly concerned about the impact new developments are having on existing infrastructure and roads.
Most roads in Southwest Boise and South Meridian to Kuna are two lane section line roads, there are several intersections that are not yet signalized and some that are still two way stops. This area of Ada Co. is projected to grow at an enormous rate over the next two decades, and COMPASS projections show that South Meridian, SW Boise and Kuna will add over 60,000 residents by 2040."
Meanwhile, Dry Creek Valley Coalition is fighting HB 568 in the legislature. The bill would exempt land use issues from the referendum process. The bill is being pushed by the Ada County Commishes after a 4th District judge ruled against a previous attempt to disallow a petition put forth by the group opposing a massive development in the Dry Creek area.
It appears to the GUARDIAN our society is facing a major split between the governed and the governors. If the law (or constitution) favors the citizens, the politicos simply change the law. Examples abound, but simply put, there seems to be a growing movement against the rampant growth championed by developers and politicos.

Sunday, February 18th
The folks who organized to stop the CVS drive thru on State have established a Facebook site called VANISHING BOISE. They appear sincere in their efforts to preserve what many think is still the "small town flavor" of Boise.
VANISHING BOISE is worth a look as is Don Day's BOISE DEV. Day tries to be objective as he presents the latest in planned growth via trolling the city building permit rolls and talking to retailers and developers. VB tends to be more in line with the GUARDIAN growthophobe philosophy which sees growth for the sake of growth as nothing more than a cancer. We welcome business or citizens who wish to pay their taxes and offer a fair wage, but if they expect "incentives" or tax breaks, they need to look elsewhere.
The Daily Paper ran a very lengthy story about VB and others who are part of a growing trend in folks who oppose the rapid growth. They will all be out in force at 1:30 p.m. Tuesday when the legislature considers House Bill 568 in committee which would eliminate citizen referendum in land use matters. The bill is a direct challenge to citizens who won a small victory in court against the Ada County approval of the Dry Creek development east of Highway 55.

Wednesday, February 14th
We cannot stress it strongly enough. The citizens of in Idaho are empowered by the State Constitution to control the purse strings of public debt.
Boise City and Team Dave have once again launched a public relations blitz to create support for a $70 million edifice to replace the main Library on Capitol Blvd. near the river. The question before Boiseans is quite simply: "DO YOU WANT A BEAUTIFUL BUILDING OR GOOD LIBRARY SERVICE?"
Nearly a dozen years ago the GUARDIAN offered up a common sense plan to provide first class library service to ALL of Ada County and share the costs. We once again offer up our sound advice which includes a vote of the people for a consolidated Library to serve Boise, Meridian, Garden City, Eagle, Star, Kuna. There is an existing "consortium" of libraries which does a good job sharing assets and talent.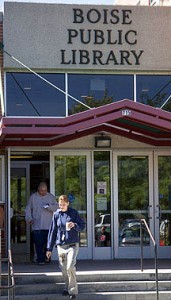 SEPT 2011 POST
LIBRARY PLAN OVERDUE (EXCERPTS FROM HISTORIC POST)
Before Boise Mayor Dave Bieter and his Team Dave go too far politicizing libraries, he better talk to the hardworking folks who make it all work.
The GUARDIAN has been working below the radar to come up with a plan for a county-wide system of libraries in Boise and we can assure you it involves ALL citizens who understand and value the services and rewards of a good library system.
People in Boise, Meridian, Garden City, Eagle, Star, and Kuna are all residents of Ada County. We should have just one library and Boise should NOT be the 900 pound gorilla.
Insiders at all levels–BPL staffers, Ada Community Library, and several 35 year library veterans–tell us the best thing we can do is have a COUNTY-WIDE LIBRARY. One former staffer tells us the State Library favors county libraries and they work toward such systems.
Guess what? TODAY, through a "consortium" of libraries that runs from Caldwell to Twin Falls and even to Hailey, you can use a Nampa library card to borrow a book in Boise and return it to Hailey when you are finished. Or any combination of transactions at those libraries.
If we consolidated just the Ada libraries we could have a greatly simplified system and EVERYONE would share in both the costs and the benefits.
As it is now, Boise residents are getting hit unfairly in the pocketbook and Team Dave wants to build more libraries–he just doesn't know how to fund them. The library law provides for consolidation with–A VOTE OF THE PEOPLE! We need to get this rolling before Boise gets a debt load or committed to one program without exploring consolidation.
Because Boise annexes beyong its ability to provide services, they PAY other libraries toprovide services to Boise residents. HOWEVER, users (insiders call them "patrons") from those districts can use their cards in Boise for free.
Without getting into a debate about what libraries should offer, we feel computer access is absolutely essential. The days of card files and 10-year-old encyclopedias are gone. Today's libraries offer traditional printed books alongside videos and access to just about any information on earth through the internet.
While Team Dave was busy offering up an ill fated and outdated $38 million library bond, the worker bees in the library business continue their efforts at making services available to library types everywhere.
We already share the books, how about sharing the control, funding, and costs countywide and we would all pay just once?

Since the original post, Team Dave wisely opted for neighborhood libraries. Two are new stand alone buildings and two are store front remodels in shopping centers. Good effort, good results, and it was all done out of pocket change in the city budget with no bond debt or solicitation for donations.
The current $70 million plan has plenty of hoopla, a "world class architect," the usual drawings and color photos in the Daily Paper, but no word on where the money will come from to pay for the dream.

Tuesday, February 13th

Boise coppers have been evicted from their substation at 1025 S.Capitol Blvd. across from Boise State University due to hazardous mold and probable asbestos contamination.
The former motel and restaurant is owned by the City of Boise and has been used for low cost housing for years. Police moved in after the new apartments were built in the Lusk neighborhood bringing in several thousand college students.
The exit move took place recently after officers suspected mold was present. A contractor was hired to evaluate the concerns and came back with a report indicating mold was present.
Chief William Bones moved his troops out to temporary quarters for another downtown presence. Officers have been provided with health information as part of the move.
One observer told the GUARDIAN, "frankly, the place is filthy!" When we talked to residents of the adjacent public housing apartments of the same vintage and people working in the same structure formerly occupied by coppers, they were all unaware of any mold or asbestos concerns.
The apartment residents said their quarters had not been inspected and they were puzzled at the sudden departure of the police at the complex.