Guardian Top Stories

Friday, October 12th
GUEST OPINION BY
By Marisa Keith
The highly publicized Ada County Highway District vehicle fee increase on the November ballot suggests that the agency needs more revenue to maintain and construct the county road system. However, there are other plans in the works at the agency that seem to suggest that the bank account may not be as low as the public is being led to believe.
A recently created ACHD Community Watchdog group has been gathering information about a new multi-million-dollar administration building as well as a temporary five-year lease for office space to be used during the construction period.
ACHD either has more cash on hand than they wish to reveal or they will be returning to voters seeking construction funds through a bond request.

The current ACHD headquarters, built in 1977, has seen several remodels and additions. In 2013 ACHD created a team to look at the headquarters and other maintenance facilities. That team found that not enough parking existed at the headquarters building and that more office space would be needed to accommodate future employees. They recommended expanding the current headquarters to around 60,000 sf.
In 2016 ACHD Commissioners approved a contract with the architecture firm CSHQA for over $1.3 million dollars. In a public record request earlier this month it was discovered that already over $630,000 has been spent on multiple architectural drawings, engineering, title work, and soil testing. Total cost for the building has been difficult to determine as this project has not been discussed at length at public hearings, or during the recent budget adoption, nor is cost discussed in the upcoming Single Integrated Operational Plan which is on the regular agenda for Wed. October 17th at noon.
One ACHD representative stated it might be about $5 million, but a 2015 memo estimated costs between $10 and $12.8 million not including property acquisition. If the recent Boise Fire Department failure to comply with their bond approval terms is any indication, costs are likely to be significantly more.
ACHD is also considering a lease for the 17,711 sf second floor of the CSC building at 1301 N. Orchard. This five-year lease will cost $301,087 a year with an increase of 3% in years 2-5.
Little is known about where the money for this project is coming from. The FY 19-20 budget has one line that shows $1.4 million being set aside for professional services and construction, and in some memos there is a reference to the future facilities fund.
At the ACHD meeting last week the Commissioners declined to sign the lease until after the November election. Two commissioners are up for re-election and they felt that whoever fills their seats should decide if it is appropriate to spend that amount of money. Safe cover to avoid discussion during pending vehicle fee increase.

Wednesday, October 10th
Property developers have paid many thousand dollars to the "Citizens For Better Transportation" PAC in an effort to pass a proposed Ada County Highway District vehicle fee hike on the November ballot.

It comes as no surprise to the GUARDIAN that big developers seek to raise fees for the average automobile owner while exempting all vehicles over 8,000 lbs. The list of those who ponied up more than $10,000 each included M3 Development, Corey Barton Homes, Brighton Corp., Jim Congers, and DBVT Agricultural Holdings.
Other engineering and construction firms also contributed to the PAC which was formed to promote passage of a lopsided measure which would raise the local tax portion of vehicle registration fees by 70% while totally eliminating any local tax whatsoever on the heavy vehicles that cause the damage to our streets. Even Meridian Mayor Tammy de Weerd kicked in $250.
The campaign finance report shows $77,325 in payments to the PAC, mostly from folks who will benefits from passage of the increased fee proposal. See it HERE.
The GUARDIAN has called for defeat of the measure because: –It is open ended and will last forever unless repealed by voters at a future date. It has no expiration date.
–It exempts the heavy rigs and puts the financial burden on the private car owners.
–The current fee structure will remain as the only county vehicle tax in the entire state even if the 70% hike fails.
We have been told that several legislators are working on enabling legislation that would close the loophole on those rigs over 8,000 pounds. ACHD is bound by state laws.
The ACHD commission voted Wednesday to forge ahead with a legislative proposal that would include fees for ALL vehicles up to 60,000 pounds. However, the fee hike proposal on the ballot remains in play.
If the legislature passes a new state law to allow local fees on the heavier vehicles, it would require an Ada vote to include those bigger rigs, regardless of the election outcome on the current fee proposal.
It's a safe bet the politicos at ACHD would prefer to not reveal the details of the legislative drafts until after the election.

Friday, October 5th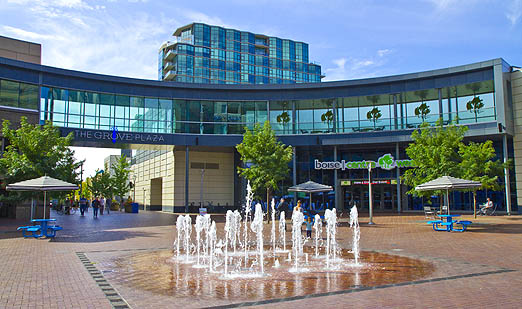 The Greater Boise Auditorium District (GBAD) is awash in cash from the local hotel room tax and Boise City's Team Dave is trying to get their hands on it.
The City Council will discuss a scheme at Tuesday's meeting that would allow them to sell the Grove Plaza and fountain for $8 to 10 million so they could spend it on a baseball park with no public scrutiny such as a bond election.
In a nutshell here's the deal:
The Central District urban renewal project, which includes the Grove Plaza with the fountain and donor bricks, has expired. The Capital City Development Corp. (CCDC) has owned the area for nearly 30 years and they will transfer ownership to the city. Logical move, the area is essentially a park with a fountain and an outdoor concert venue with benches, etc. No money exchanges hands and the Grove Plaza remains a public asset.
But since the location is outside the front door of the Centre on The Grove convention center, it would be just as logical to transfer title to the GBAD. In fact, GBAD has had a maintenance contract for years with CCDC.
When GBAD executive director Pat Rice learned of the upcoming transfer deal between CCDC and Boise City, he began the work of negotiating a new maintenance deal with the city. That has been pretty much the only official communication between GBAD and Boise over the Grove Plaza.
In what can only be termed a "typical Boise" deal, the city proposes a warranty deed with restrictive covenants allowing them to sell the public asset to another public entity which could only be GBAD. And, the proceeds are to be used for a ball park or "no deal." The only reason for such a deal according to a GUARDIAN source is, "That's the only way we can get our hands on the GBAD money."
Throughout the past year's controversial meetings, presentations, and proposals, for a downtown ballpark,GBAD has remained silent. The board took no action regarding ANY expenditures for the proposal which would have featured a baseball park/soccer field surrounded by a private commercial development. First it was in the old K-Mart property at Americana and Shoreline, but that was abandoned for a potential location at 2900 Fairview near Whitewater Parkway which is in limbo.
Citizens have been generally opposed to spending tax money that would be part of a private development. In a plan that defies logic and wreaks of "insider trading" and blatant money laundering, Team Dave's offer will undoubtedly highlight the Tuesday council meeting.
In fact, GBAD has expressed little interest in a stadium even though the agency could legally run a ball park. Meanwhile Mayor Dave Bieter has eagerly promoted and endorsed a downtown ballpark. Greenstone Properties has been the developer with the architectural drawings.
Margaret Carmel at IDAHOPRESS did some good reporting, contacted city councilors and added perspective to this post.

Wednesday, October 3rd
Great research and reporting by Don Day at
BOISEDEV
on the Rock Star contract Boise citizens have to pay the proposed library architect for upscale travel.
Following up on the GUARDIAN story about Boise Mayor Dave Bieter's "Team Dave" agreeing to make first class payments for architect Moshe Safdie to travel and stay in Boise, Boise Dev reveals improper payments to Safdie's staff prior to even having a contract. Spokesman Mike Journee admitted the contract was unique. He also said the city would seek reimbursement for the travel payment made for a Safdie associate prior to the contract, but added it was made because, "The Safdie team was seen as the likely selection…"
Boise Dev revealed A March 15th project kickoff meeting in Boise included Yoon, Moshie Safdie, principal Greg Reaves, Nico Kienzl of sustainability consultant Atelier Ten and library consultant Nancy Tessman, all of whom traveled to Boise from various locations around the country. It also included local members of the CSHQA team. Altogether, this meeting cost taxpayers more than $10,000, including:
— Dinner at Leku Ona for seven people, including three bottles of wine – $453.07
–First class airfare for Moshie Safdie – $2,956
(Safdie's expense report notes that a Boston to Boise flight was canceled. This prompted a new ticket issued at the last minute for $1,371. The new fare replaced a business class trip with a ticket that was first class on the first leg and economy class from Minneapolis to Boise).
–Two "team lunches" billed by CSHQA by Cafe Zupas, including delivery fees – $517
–Hotel nights for Yoon, Safdie, Kinzel and Reaves at Inn at 500 Capitol – $2,605.
–Dinner at Chandler's Steakhouse for Reaves- $38
Yet to come will be the expenses for the Safdie sales pitch held at the Simplot JUMP building last month which included NO MENTION of price, funding methods, or revenue sources.

Tuesday, October 2nd
Just when it seemed to be finished, the dust up over Ada County Highway District Commish Jim Hansen's transgression over an open meeting violation has popped up again. Now he is seeking charity.
Hansen, an attorney, hired a lawyer for some reason–even though the Attorney General declined to prosecute him for sending e-mails to fellow commishes which apparently constituted a "serial meeting."
In a move that defies logic, Hansen has established a GO FUND ME page in an attempt to raise $11,350 to pay for his lawyer. Several questions come to mind for the GUARDIAN:
–Why would Hansen think citizens would want to pay for his mistakes?
–At the going rate of $300 an hour, did his counselor really spend 38 hours on an issue the AG declined to pursue?
–Why should the public pay for Hansen's lawyer, even if it is a voluntary contribution?
EDITOR NOTE–We have no ax to grind with Hansen. He seems to be sincere, intelligent, and dedicated. It seems out of character for him to have panicked and hired an expensive legal counsel which he apparently couldn't afford over such a minor event. In the history of open meeting violations, a GUARDIAN source who used to prosecute the violations told us he cannot remember a fine ever being levied for a conviction.
The IDAHO PRESS has more on the story.