Guardian Top Stories

Saturday, April 20th
Timing is everything. The architectural firm awarded the $11 million contract to build the Boise Library was not licensed in Idaho at the time they solicited the job.
A partner in the architectural firm Safdie and Associates has paid a $500 civil fine and $600 in legal fees to the Idaho Bureau of Occupational Licenses after obtaining a license seven months after soliciting business in Idaho.
Based on public documents obtained by the GUARDIAN, we learned that JAMES GREGORY REAVES, admitted to practicing architecture in Idaho without a license prior to being awarded a huge ($11 million) contract by Boise City to design a library.
Idaho code 54-305(1) states that every person practicing or offering to practice architecture in Idaho must be licensed in Idaho.
It may be a minor slap on the wrist to the Safdie partner, but to those firms that lost out in the competitive evaluation process, it has to be a slap in the face to have an unlicensed out-of-state competitor win the bid.
Boise officials evaluated the proposals October 28, 2017. Reaves obtained his license June 8, 2018.
The civil penalty agreement was signed January 31, 2019.
UPDATE 4/23/19
Here is a very recent "request for qualifications" from another government agency. We would gladly share the original Boise RFQ document if anyone has it. Note item 2.

Click for penalty agreement details. Continue reading here…

Thursday, April 18th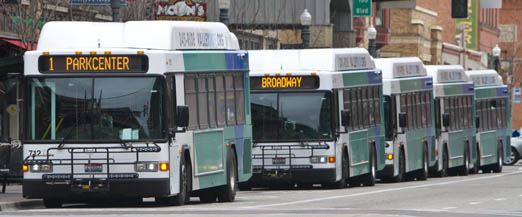 By Jimmy D. Bus
Guardian Transportation Correspondent
On Tuesday night the Boise City Council heard testimony from citizens about the crappy Valley wide bus system as the Council considers adding even more funds to the ever declining system.
Crappy. That adjective was used at a recent Valley Regional Transit (VRT) Board meeting by none other than the Leader of Team Dave (Mayor Dave Bieter) to describe the Valley Regional Transit System. At a later VRT meeting Hizzonor tried to walk back his comment saying he was referring to the financing available to VRT and not the actual operation of the system itself.
But the recently released VRT 2018 Annual Report seems to confirm Hizzonor– a system of extremely poor quality — one definition of crappy.
A few highlights.
• VRT spends about $ 10 million a year to provide bus service in the Valley.
• Passenger fares covered about 7 % of the cost in 2018. Possibly a new low. Most of the remaining 93% was borne by local and Federal tax dollars.
• Bus ridership is down, again, Valley wide despite all the population growth in the Valley.
• Even after adding service in 2018, Boise bus ridership declined about 4% from 2017- a new recent low. The 2018 ridership level, about 1.46 million trips, has not been seen since the 1980s when Boise's population was half of what it is now.
• Nampa, Caldwell, and Intercounty ridership declined about 7% from 2017. Why is ridership down in the Valley despite adding evening and other services? Well, one reason could be riders like buses to be on time. Buses in the Valley aren't running on time.
• Boise buses run late (more than 5 minutes) nearly 35% of the time.
• Nampa and Caldwell buses run late about 45% of the time.
• Intercounty service buses late about 45% of the time. Worse yet, buses pass their stops early. Nothing more aggravating than seeing the back end of the bus you were trying to catch because it passed the stop early.
• Boise buses run early nearly 6% of the time.
• Nampa or Caldwell buses run early 12% of the time.
• Intercounty service operates early about 10% of the time.
Bus riders appreciate clean, well maintained buses, which operate on time, or nearly on time, providing consistent service by friendly, knowledgeable, safe drivers. Those are key elements to building ridership and increasing passenger revenue. As usual, VRT is moving with glacial speed to address declining ridership and buses not running on time.
Rather demanding administrative cost reductions and better management of existing resources from VRT, the only answer Boise politicos seem to have for improving the bus system is to throw more money at it.
Certainly a crappy deal for local taxpayers who already pay more than $7-$8 in excess of the fare for every person who rides a bus.
The writer has extensive education and professional experience in transit issues.
EDITOR NOTE— here is a link to a BUS SOLUTION we posted 12 years ago…it got nary a nod from the bus folks, the council, or the mayor.

Tuesday, April 16th
Urban renewal agencies were originally created to insulate federal finances from municipal finances. It was mandated by the Feds so cities didn't commingle funds intended to fight blight with tax revenues intended to cover expenses like libraries, fire stations, and other municipal structures.
Under Idaho law urban renewal agency membership prohibits the city council from holding a majority of the seats. While the mayor appoints members, that is supposed to be his final role. The agency (in Boise it is the Capital City Development Corp.) is an "independent body corporate and politic.
Join us now for a little lesson in follow the dots.
: Mayor Dave Bieter appointed himself to the CCDC board. He supposedly "wears another hat" as a commissioner.
: Former city councilor Maryanne Jordan remains on the board despite her role as a state senator who is tasked to make decisions regarding urban renewal.
: Ben Quintana, a former city councilor appointed by Mayor Dave Bieter, also remains on the CCDC board.
: Randy Johnson is president of the Central Bench neighborhood association and also serves as Senator Jordan's campaign manager.
: Johnson's wife works in Mayor Bieter's office. Johnson's neighborhood is part of a planned CCDC expansion in the Orchard Street area.
: City Councilor Holli Woodings is not on the CCDC board, but her husband, Ryan Woodings, is a member.
: City Councilor Scot Ludwig sits on the CCDC board as the only incumbent city councilor. He is a law school classmate of Bieter's and was appointed to the city council by Bieter before being subsequently elected.
: CCDC executive director John Brunelle came from Team Dave's office of economic development as did another staffer who perpetrated a "dirty trick" letter to legislators when ACHD scheduled a legislative tour in the past. Then-councilor Jordan publicly apologized for that action.
So, you can see Boise's urban renewal district is truly an "Independent Body Corporate and Politic," free of any undue influence.

Monday, April 15th
When it comes to the business side of Boise City's Ice World, it has been far from a slick venue.
The most recent slip on the ice came when the City-owned booze license was suspended for selling drinks to a minor. Parks director Doug Holloway confirmed the incident to the GUARDIAN when asked about it.


Holloway explained the guy who sold the beer to the minor made an "innocent mistake" when he read the birthdate requirement from a card provided by the State Police. On one side it shows the date for 18 year olds to buy cigarettes and on the other it has the date for booze sales to 21 year olds. He read the wrong side. A scanner has now replaced the human element to insure compliance with the law in the City-owned and operated "Pilots Lounge."
The employee didn't lose his job, but his mistake resulted in a a 10 day suspension of beer and wine sales in lieu of a $500 fine. Boise has similar booze licenses at the airport and golf courses.
We question the logic and wisdom of Boise City being in the business of selling alcoholic drinks in a facility frequented by families and juveniles. Holloway said they obtained the license in response to parents wishing to have a beer while watching their kids play hockey. BSU doesn't sell booze at sporting events nor do local high schools where parents come to watch their kids compete.
This misstep pales when compared to some of the past shenanigans.
–Criminal charges were brought when the Canadian Mounties tipped Boise coppers that skating items and hockey sticks were being sold on E-Bay which were obviously coming from the City-owned Ice World inventory.
–Boise made headlines around the world when the GUARDIAN reported workers drove a pair of Zamboni ice grooming machines through the Burger King drive-in window late at night.
–Then there was the "strip hockey" team building exercise where Junior Steelhead players removed an article of clothing each time they missed a shot. The mother who brought her daughter in for skating lessons was not amused. Boise tried to hide the security video for "national security" reasons, but the court ordered them to release the video to the GUARDIAN. (Quality was so poor we couldn't use it.)
–We also noted past complaints of beer cans littering the locker room.

Saturday, April 13th
With the increasing push to expand the reach of Boise's Capital City Development Corp. (CCDC) to include the "Vista corridor," we took a closer look at the commercial properties which are targeted for urban renewal designation.
One of the deciding factors to include an area into the urban renewal fold is BLIGHT. It appears to the GUARDIAN one of those expensive consultant studies is the basis for the desire to go after the Vista neighborhood commercial property.
In a 2015 document, the Urban Land Institute prefaced its report thusly: "Vista Avenue exemplifies a typical strip commercial street, with auto-oriented retail, bars, pawn shops, a mix of converted and dilapidated housing, and very few pedestrian facilities. This segment of the corridor bifurcates the Vista Neighborhood, which has some of the lowest livability indicators (income, single family home value, etc.) in the city, and includes a mix of single and multi-family housing. Due to the function of this corridor as a gateway to the city and the lack of relationship to the surrounding neighborhoods, there is a lot of opportunity to improve the uses and infrastructure along Vista Avenue to make it more attractive to visitors, while simultaneously improving the health and well-being of residents who rely on the corridor as part of their daily lives."
A similar case could easily be made for Hyde Park in the North End. "Buildings are old, in need of repair. Thirteenth Street is narrow with people wandering dangerously into traffic, diners bring dogs to the restaurants, parking is limited, bars and alcohol vendors are just a few blocks from schools."


The historic value of Vista Village is profound. It is the first shopping center in Idaho and recently underwent a multi-million dollar facelift and remodel–all at the expense of the owners with no subsidy. Unlike properties at the Town Square Mall and downtown Boise, Vista Village has a 100% occupancy.

New commercial outlets abound along Vista including two modern medical speciality facilities, four financial institutions, ethnic food outlets, a jeweler with more than half a century of service to the area, and several national lodging facilities.
Also along Vista one can find a modern super market, a veterinarian, legal offices, three pharmacies, a florist, travel agent, and much more.
Rather than cater to visitors as the "gateway to the city," we feel it is time for City Hall to understand the Vista neighborhood is a culturally diverse area with most services only a few blocks from the residents who patronize them.


Any "blight" or poverty is the direct result of city fathers and mothers using the area as a dumping ground for low income housing, home for sex offenders, and a place to jam as many people as possible into modern tenements and skinny houses under the guise of "increased density."
As we see it, there is little justification in designating the commercial properties along Vista as part of an urban renewal area. Treat them fairly and stop dumping on Vista residents and the area will continue to evolve into the vibrant neighborhood it deserves to be.