Guardian Top Stories

Sunday, November 29th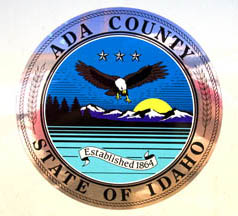 A forensic audit of the  County Treasurer's office ordered by the Ada Commishes has revealed a criminal investigation over a $31,000 discrepancy is underway by the Idaho Attorney General's office.  
The audit is the latest chapter in the feud between the Commishes and the Treasurer.
Details of minute-by-minute alterations to the accounting of a check in the amount of $31,349 are left unexplained in the audit "due to an investigation underway" by the AG, according to the audit. The funds were destined to the Idaho State Treasurer as part of an estate which was closed by the Ada Treasurer's office about a year ago.
Treasurer Vicky McIntyre told the GUARDIAN she discovered the irregularity nearly six months ago and immediately notified the Ada County Prosecutor. This happened under a previous administrator who is no longer a county employee.
The audit centered around the role of the "Public Administrator," a constitutional duty which falls under the elected office of county Treasurer when someone dies with no will or living relatives.
The forensic audit concluded with many recommendations to secure everything from guns and ammo to cash obtained from estates of people who died with no will or living relatives. Eide Bailly LLC conducted the audit which was generally critical of the way the office of Public Administrator is being run. Apart from the case involving the check, there didn't appear to be any indication of criminal activity.
 
Questions also arose over property acquired by the Treasurer's Office prior to being offered for sale. One issue questioned by the auditors was a desktop scanner reportedly worth at least $200 which was "purchased" from an estate for $25, but could not be located during an inventory audit. The scanner was never offered for sale at auction.
 
Here are some highlights of the audit:
 
–Items stored in the vault in the courthouse are unsecured during the day in a common area.
–A key to a secure storage bin is left in the lock for anyone to use.
–There appears to be "co-mingling" of assets at county storage facilities.
–Some items are stored at the Coroner's warehouse in an unsecured area, including guns and ammo.
VIEW AUDIT:
Forensic Audit Treasurer's Office 09-24-15
Treasurer Vicky McIntyre offered the following written comment:
The task of public administration has exploded since I took office in January 2011. Prior to this time, the county had approximately 3-4 cases a year. Currently we average about 20 cases a year. We report to the Courts twice a year. In our November report, we reported 14 active cases, 8 pending closure, 1 pending determination, and 3 closed, denied, or transferred.

In 2011, a tax data clerk performed the administrative tasks of public administration. In 2012, I developed a specific job description for public administration because of the explosion of casework and the complexity of the estates. In April 2013, I hired the first official public administration specialist in my office.
As with any new employee, it takes time to transfer processes and have them "make it their own". In January 2015, that first employee left county employment and I hired a new administrator. Since hiring this second specific public administration employee, we have been developing more standardized procedures and defining categories of tasks that all cases have (small versus large estates). The current PA administrator has added a sophistication of automation to the job. We've added a case tracking software called "MyCase" to standardize all estates. She has attempted to bring all former "open" cases into this new standard. We also now have an automated "time tracker" to more accurately log time spent on cases. It all takes time, and everything we do remains "a work in progress", as no two estates are alike. We have developed a liquidation of estate assets process using the website and auction companies.
Public Administration is not like accounting or business administration, where you can go take a college-level class to know what to do. Many of the processes that have been developed are from recommendations by the prosecuting attorney's office; the legal advice arm of a public administrator. We do nothing without communicating with the prosecuting attorney assigned to the estate. (We don't work with just one attorney, but have cases with about twelve different attorneys; each with their own ideas on how public administration should be handled.)
My office has attempted to be respectful of Ada County taxpayers' expense for public administration and have attempted to use county resources as much as possible to keep costs low. However, in April 2015, I was informed by the Director of Operations, Dave Logan, that county resources would no longer be available for my use; therefore, in the 2015 county budget process, I submitted a supplemental budget request for resources to more appropriately fund the function of public administration. The BOCC approved about half of what was requested. In the request was the need to lease a separate property where the estate assets could be more securely stored, inventoried, and liquidated. (A recommendation you'll see in the forensic audit report.) While some funding has been provided for this, insufficient resources in this and other functions in the Treasurer's office continue to be the issue.
All funds of public administration are accurate and can be accounted for. A thorough understanding of the interaction between the treasurer's office and public administration is needed to be able to fit everything together.
My office has cooperated fully with all audit requests and with all investigators. We will evaluate the suggested changes from all audits, with the available resources, and implement those that are feasible.
Vicky McIntyre
Ada County Treasurer/Tax Collector/Public Administrator



Friday, November 27th
While many drivers were searching for parking spaces at stores early Friday afternoon, Idaho State Police and officers from Ada County, Meridian, Nampa, Canyon County and Caldwell had their own "Black Friday Parade" on I-84 during a 26 mile chase that reached speeds exceeding 100 m.p.h. and ended in a crash with ISP units. Joshua J. McNair, 33, of Spokane Valley, Washington was booked into the Canyon County jail and charged with felony eluding a police officer.
Results of "PIT STOP" on I-84 at Caldwell.[/caption
Here is the ISP account of the event:
On November 27, 2015, at approximately 12:15 p.m., the Idaho State Police received information from a witness reporting an impaired driver at the Boise Stage Stop. The witness stated the vehicle, a 1993 Mercury Topaz, had damage, possibly from a recent crash. ISP troopers located the vehicle travelling westbound on Interstate 84 near milepost 53 and conducted a traffic stop.
During the investigation, the driver ran back to his vehicle and fled. ISP initiated a pursuit. Ada County Sheriff's Office, Meridian Police Department, Nampa Police Department, Caldwell Police Department, and Canyon County Sheriff's Office assisted ISP as they attempted to apprehend the suspect. Near milepost 27, the driver drove over spike strips, lost control, and crashed. He continued to attempt to flee. Officers pinned the vehicle to prevent a continued pursuit.
The driver was identified as Joshua McNair, 33, of Spokane Valley, Washington. As a result of the investigation, McNair was booked into Canyon County Jail for Felony Eluding, and is still under investigation for Driving Under the Influence.

Monday, November 23rd
With daily sad stories about low income folks–many are refugees–being forced out of their apartments due to rent hikes, questions about "affordable housing" are being raised.
Those who are being "driven out" are not the homeless living in tents. They are people who have paid monthly rents at places that are in need of improvements, but with the improvements come increased rent.
It is pretty difficult to tell a landlord he shouldn't increase rent when there is an apparent shortage of the so-called affordable units on the market. Society certainly doesn't want to encourage "slum lords," but the Boise politicos and capitalists want to see the best return on investment which means there is little incentive to build cheap apartments and rent them at a low rate when there is apparently cash to be had for high-end units in the downtown core.
Some random thoughts, questions and observations to kick off discussion:
–Is there any hope to build private low end housing in the 30th Street urban renewal area not subsidized by taxpayers? What about sharing the misery and building low cost units north of the river in the North End?
–The Vista neighborhood and Boise Bench in general have been the dumping ground for refugees and low income workers. Should apartment owners be demonized for attempts to move their property into a higher income bracket? No one seems upset about new apartments and condos in the downtown that start at $300,000.
–Do we need a city mandated minimum wage so workers can afford to work for all the hotels, restaurants, and retailers flocking into downtown Boise? There seems to be cash to construct buildings, but do any of them contain cheap apartments for the worker bees.
–Is the growth and "stimulated economy," putting a drain on the likes of public housing, the Idaho Food Bank, the long simmering tent city issue of homeless at Cooper Court?
Timing for tenant evictions couldn't be worse for apartment owners, coming on the eve of Thanksgiving and Christmas.
UPDATE 11/26/15
The STATESMAN's Audrey Dutton has a STORY explaining one of the major factors.
"According to Bureau of Labor Statistics data for the first quarter of 2015, the average weekly wage in Ada County was $873. In Canyon County, it was $630. The average statewide was $736, compared with $1,048 nationwide and ranking Idaho 50th in the U.S. for wages, ahead of only Mississippi."
Read more HERE.

Monday, November 16th
We have been reluctant to post some claims from readers regarding the plans by the Feds to bring Syrian refugees to the Twin Falls area. It just doesn't seem right to join the political "right" when it comes to barring immigrants based mostly upon their religion. It also seems foolish to open up to potential dangers.
That all seems to have changed with the terrorists attacks in France. Idaho's Governor and the entire congressional delegation called on the President Monday to halt plans to send Syrian refugees to Idaho.
Here is a Joint PRESS RELEASE from the Washington clan.
Also there seems to be an international cry to send military assets to Syria in an attempt to wipe out the radical Islamists. There was no similar uproar when KENYA had an attack killing 147 little more than a year ago…does anyone remember THAT?

Monday, November 16th
Victoria's Secret probably doesn't have to worry about competition from Ada County, but we find it interesting to see the new line of feminine apparel being offered on the county Treasurer's website.
Our favorite items being offered are three BRAS with what look to be original price tags for small breasted women (36B) for a minimum bid of only $2. This may be a "a bait and switch" because the price tag shows 36C size which leaves more (or less) to the imagination.
With Christmas just a few weeks away, this may be the perfect bargain for the special friend!
For more bargains, click HERE before November 27.
When someone dies without a will or surviving relatives, the treasurer disposes of the assets. Treasurer Vicky Mcintyre has been under increased scrutiny of the Ada Commishes, so sale of this estate–regardless of cost to administer–may be prompted by the watchful eyes. Or it may simply be a strict adherence to the law.
WAIT! THERE'S MORE! We found additional pages with even BIGGER bargains (34D).