Guardian Top Stories

Wednesday, June 22nd
Looks like Valley Regional Transit (Valley Ride bus) is taking a financial hit from the City of Nampa based on recent council action.
Nampa City Council, on a motion by Councilor Bruce Skaug, voted to reduce the public transit dues to Valley Ride. Last year, the City of Nampa subsidized Valley Ride with two checks. One for $295,918 and another for $29,812. Total paid $325,730.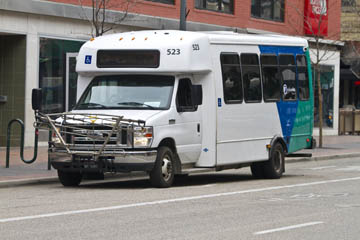 Bus/Van ridership has dropped each year in Nampa, yet Valley Ride requested MORE funds for FY 2017 from Nampa in the amount of $346,196.
City Council, in a 4 to 2 vote, not only denied the increased dues, but reduced the subsidy to $303,730 which is a 7% reduction.
The mayor opposed the reduction and wanted the increased dues. The council members who voted for the reduction will no doubt take some heat from "central planners" who are striving for mass transit and increased population to justify the "mass." Voting in favor of the cut were Councilors Paul Raymond, Darl Bruner, Randy Haverfield and Bruce Skaug.
The funds saved will be used for emergency fuel storage/transport for city public safety vehicles.

Saturday, June 18th
We noticed a piece in the STATESMAN claiming guests at The Modern Hotel complain that noise from young "cruise" motorists keeps them up at night as they circle up and down Main and Idaho between Capital and 14th.
The former Travel Lodge Motel is at 13th and Grove and is now a hipster trendy motel-bar. Boise coppers are spending some extra enforcement time in the area responding to noise complaints. We are unaware of "directed patrols" in any other areas of the city focusing on noisy kids and cars.
If Team Dave and the City Council get their way, eliminating autos downtown, the cruise could turn into a swarm of bicyclists and the coppers could write hundreds of tickets for riding without front and rear lights and numerous traffic violations. Just a thought.
Boise police have previously reported they spend a full 25% of their resources in the downtown area–an area which provides little or no tax revenue to the city due to its status as an urban renewal district.
Seems ironic the city is so concerned about noise in a commercial area crowded with hundreds if not thousands of folks consuming adult beverages, but have little concern for potential F-35 fighter jet noise in residential Bench neighborhoods.

Wednesday, June 15th
The cryptic item on the June 7 Boise City Council read, "David H. Bieter, Mayor's Office, to attend meetings with potential city benefactor in New York City, NY, on July 28-30, 2016."
Following the shenanigans that led to the ultimate downfall and jailing of former Mayor Brent Coles, a GUARDIAN reader was properly concerned and sounded the alarm for a records request.
The GUARDIAN filed the appropriate request and the office of the City Attorney has provided us with the information sought. Turns out there will be no attendance of ANY Broadway plays, including HAMILTON. Hopefully, no limos like Idaho Treasurer Ron Crane rented will be on the expense account either.

The city (taxpayers) is paying for a party of four, including the mayor, to make the trip. Two other city staffers and a prominent arts-community member will make the trip with Bieter. A fifth private player will pay his own expenses. The group of artsy Idahoans will be visiting billionaire William Louis-Dreyfus of the "Dreyfus Fund" fame. Dreyfus is a world renowned art collector and owns much of the James Castle art archive.
CASTLE
was a self-taught local artist born in Garden Valley and his work has been a hot commodity in art circles following his death in 1977.
Bieter and his newly assembled "Team Dave," will offer a personal "thank-you" for a 1955 trailer which was formerly occupied by Castle and has been given to the city. Boise City acquired his Northwest Boise home near Pierce Park and Castle Drive in 2014. They also want to eventually update the Boise homesite and open it to the public as a museum. No doubt the art delegation would gladly accept any sort of endowment or funds to help with the city museum project.
Castle's simple works drawn with soot from wood stoves are on display throughout the world, including at the Smithsonian in washington, D.C.
UPDATE 6/20/16
The STATESMAN'S Anna Webb posted a more detailed story extolling the city's plans for the Castle Museum.

Wednesday, June 15th
We just received news that Idaho Attorney General LAwrence Wasden has ordered the Ada County Clerk to do an election ballot recount in several precinct in the Republican primary race between Sharon Ullman and Dave Case.
Here is the clerk's press release.
Tomorrow, June 16th, the Ada County Elections Office will be conducting a recount in the republican race for Ada County Commissioner, District 3. Following a written request by candidate Sharon Ullman to recount six precincts (1406, 1413, 1501, 2101, 2207, and 2211), the Attorney General issued orders to impound the ballots and conduct the recount. The recount will be overseen and directed by the offices of the Attorney General and Secretary of State.
The process will begin at 8:30 am with a Logic and Accuracy test to ensure the tabulation equipment is in working order. At 9:00 am the recount will begin with a hand recount of 200 ballots followed by a machine recount of all remaining ballots in each of the requested precincts.
UPDATE 6/16/16
Today, June 16th, the Ada County Elections Office conducted a recount for the republican Ada County Commissioner, District 3 race in the following six precincts: 1406, 1413, 1501, 2101, 2207, and 2211. After the full recount of all six precincts, the results remain unchanged.
The recount process was overseen by the Attorney General's Office and a letter confirming the results of the recount will be issued within the next day.


Friday, June 10th
It has been admittedly slow on the local news front, so here are a couple items for discussion .
A reader sent this city council agenda item:
"This was on the agenda for the June 7th, seems cryptic and Brent Coles like."
"David H. Bieter, Mayor's Office, to attend meetings with potential city benefactor in New York City, NY, on July 28-30, 2016."
This item appeared on the NEXTDOOR VISTA blog today regarding a op-ed piece in Friday's STATESMAN by Mayor Dave Bieter.
Mayor Bieter this morning wrote yet another OpEd asserting his support for the F-35. The letter said there is a group called Gowen Strong of 2,800 individuals who have helped keep Gowen in the running with the Air Force.


I like Beiter. He has helped bring Boise into the 21st century and become an interesting and dynamic city. He's a good man. But on this topic, he is wrong. His mantra of making Boise "the most livable city in the country" will be buried by this airplane.
Perhaps he has been shoved into a corner. All of Idaho's DC delegation has been pressing for the F-35. I'm sure Bieter has come under a lot of pressure. He should not cave if that's the case.
His only arguments are twofold: #1. $155,000,000 Federal dollars every year. #2. Tradition. We've "always" had jets at Gowen. #2 is very weak because Boise has changed. It is now a metropolitan capitol attracting business and residents who respond to the Idaho we all love. So, it's basically #1. All that money.
And once again the love it or leave it crowd will speak of their love of "the sound of freedom". That's all they really have. But they are not the real problem. It's that Gowen Strong group. Who are they? You can bet that only if an organized group of at least 20,000 actively opposes the F-35 will there be any hope of sending that airplane to some more appropriate place than the metro center of our state.