Guardian Top Stories

Wednesday, April 26th
Boise coppers have a dog named Rosco with a nose for drugs. Rosco assisted in a couple of arrests Tuesday that netted several wanted persons and suspected drug violators.
Coppers responded to neighborhood complaints in the area of Fairview and Fry and according to a press release ended up making four arrests.
Here is the police summary.
Arrested: Timothy I. Jones, 29, Boise
Charged: Drug Trafficking in Heroin (F)
Boise Police officers conducted a traffic stop on a vehicle for an infraction near the intersection of Five Mile and Fairview at 3:15 p.m. on Tuesday.
Drug detection K9 "Rosco" and his handler also responded to the stop and an open air search around the vehicle resulted in a positive alert. Officers searched the vehicle and located a folded piece of tinfoil containing several individually wrapped pieces of a substance which tested presumptive positive for heroin. A search of the driver of the vehicle revealed a plastic baggie containing a large amount of suspected heroin. The heroin weighed over 31 grams, well over the amount necessary to make the charge felony trafficking. Officers placed the suspect, identified as Jones, under arrest and transported him to the Ada County Jail where he was booked under the above charges.
Arrested: Cara M. Holland, 26, Caldwell
Charged: Possession of a Controlled Substance (F), Criminal Possession of a Financial Transaction Card (F), Driving Under the Influence (F)
Officers conducted a stop on an SUV at the intersection of Cole and Northview at 4:26 p.m. for displaying fictitious plates. An open air check around the vehicle by a K9 resulted in an alert. A search of the vehicle revealed a plastic baggie containing a white powdery substance which tested presumptive positive for meth. A credit card which was reported stolen was also located inside the vehicle. A records check of the driver, Holland, confirmed that she had a felony driving under the influence warrant out of Canyon County.
Arrested: David S. Lester, 26, Meridian
Charged: Possession of a Controlled Substance (F), Fugitive to Idaho (F)
Arrested: Antonia Loera, 29, Boise
Charged: Probation Violation (F)
Boise officers conducted a stop on a vehicle with an expired license plate at the intersection of 37th Street and Chinden Avenue at 6:10 p.m. When officers spoke with the driver, identified as Lester, they discovered he had an active felony warrant out of the State of Oregon. Officers placed Lester into custody, and a search of his person revealed several pills in his possession without a prescription. Lester was transported to the Ada County Jail. Loera was also arrested on a felony probation violation charge.
Arrested: Gertine Wood, 32, Meridian
Charged: Possession of a Controlled Substance (F), Possession of Drug Paraphernalia (m)
BPD Officers conducted a traffic stop on a vehicle that was not registered near the intersection Fairview and Maple Grove at 6:32 p.m. A K9 open air search around the vehicle resulted in a positive alert and a search of the vehicle revealed a glass smoking pipe next to the driver's seat. Inside the pipe, officers located a white crystal substance which tested presumptive positive for meth. Officers transported the driver, identified as Wood, to the Ada County Jail under the above charges.
Arrested: Luis A. Juarez, 29, Boise
Charged: Possession of a Controlled Substance (F)
As officers were conducting a traffic stop near the intersection of Morris Hill and Orchard at 7:40 p.m. they could see in plain view a marijuana smoking pipe. A search of the vehicle also revealed a plastic baggie containing a crystal substance which tested presumptive positive for meth. Officers placed the driver of the vehicle, identified as Juarez, under arrest and transported him to jail.

Wednesday, April 26th
A reader sent the following question to the GUARDIAN today and Boise School District Super Dr. Don Coberly had a response within minutes.
Reader question:
Q–as a resident of the Vista Neighborhood I truly appreciate the dedication your publication has in providing all of the important information in Boise's bid to get F35s. I'm wondering if the Guardian has pressed the Boise School Board on this issue?
My son attends Owyhee elementary and it is right across the freeway from the airport, furthermore you have Hillcrest elementary, and many many other schools that are near the airport and will be exposed to the noise and air pollution. Furthermore, the BSD main office is extremely close to the airport. I'm just wondering what the School Board, or Dr. Coberly have to say about the F35s. It sure seems like they should have a HUGE say in this issue! I'm just wondering if you know what their stance is, and if anyone has reached out to them to get involved?
District Response:
A–While we are aware of the potential impact of the F-35 mission on the community, the Boise School District is committed to gathering all the facts. With the upcoming Environmental Impact Study that will be released later this year, the District will be able to provide feedback appropriately to the U.S. Air Force.

Tuesday, April 25th
When it comes to doing battle in the Mideast, Idaho's Air National Guard is ready to serve, but when meeting with Vista Neighbors, both the ANG and Boise's airport officials avoid confrontation, refusing to join a panel discussion on the F-35.
The Vista Neighborhood Association will hold a meeting 7 p.m. Thursday April 27 at the Whitney Elementary School gym on the corner of Owyhee and Palouse, just south of Overland. The group is concerned about the potential of having the Air Guard flying F-35 fighters. While the official neighborhood stance is to gather more information and keep an open mind, many feel betrayed by the IANG and politicians bent on getting the noisy jet fighter based at Gowen.
Despite formal invitations to join a panel discussion, both the Boise Airport and IANG declined to participate. The panel will consist of Citizens for a Livable Boise, an environmentalist, a health professional, someone to address children hearing issues,and a PhD economist. Written questions will be answered.
In a letter to Vista Neighborhood president Mike Stefancic, IANG Maj. Chris Borders said, in part, "the Idaho National Guard does not engage with the public this way, nor are we authorized to do by the U.S. Air Force or the National Guard Bureau–our higher headquarters." OK, good excuse.
But wait! There's more! The GUARDIAN received a copy of an invitation to Boise Regional Realtors to attend a meeting May 23 which will include a "forum" with PANELISTS. Guess what? Both the Air Guard and Boise's airport director will be on a panel discussing changes at the airport and Gowen Field. No opposing panelists will appear at that meeting.
Both the ANG and the Airport suggested the time to ask questions is AFTER Boise is selected as an F-35 base during the environmental impact phase of the project. Seems rather self-serving for government officials to put off public comment until LATER, while conspiring to get their own message out NOW. They use what they describe as the "heavy hitters" in the community through uniform talking points printed in ghost-written op-ed pieces supposedly authored by local politicians and bureaucrats.
See conflicting documents below. Continue reading here…

Sunday, April 23rd
In the latest round of documents obtained from Boise City by the GUARDIAN, it was revealed that Councilor Maryanne Jordan worked behind the scenes to oppose Mayor Dave Bieter's request for $100,000 to promote the F-35 coming to Boise.
Rather than publicly vote against Bieter, Jordan privately expressed her misgivings about approving Bieter's request for up to $100K for Greg Kiley's lobbying services in Washington. That prompted this exchange between Jade Riley, Bieter's chief of staff to Airport Director Rebecca Hupp:
"It sounds like Maryanne is concerned about spending the $ on the lobbyist for F-35 mission. She is requesting that we defer the item tonight so that we can chat offline and put it back on for April 4th for action. Can we live with that timing?"
The item was deferred again April 4 and one news report seemed to indicate there was no future plan scheduled to publicly decide on the expenditure.
When Intergovernmental Affairs Director for the City of Boise, Amber Pence, asked Airport Director Hupp if Kiley & Associates was still NOT hired, Hupp responded saying, "Correct, we removed the item from the Council agenda because we only had 4 councilors at the last meeting." (Hupp sounds to be more in charge of the council agenda than some of the councilors).
More concerning to the GUARDIAN is a series of communications between Hupp and Kiley planning their attack to get the F-35 effort off the ground as it were. He is either working without pay and outside the approval of the City Council, or there is another source of revenue undisclosed at present.
Ironically, Councilor Jordan moonlights as a Democratic State Senator where she was counted among those who voted without objection to appropriating $100,000 for Republican Governor Butch Otter to work on the F-35 project.

Saturday, April 22nd

Historic Union Pacific steam engine 844 will visit Boise Saturday night and Sunday. The GUARDIAN joined some old-time steam engine buffs to make these photos near Glens Ferry Saturday.
It was built in 1944, before diesel replaced steam power. The locomotive never officially retired and has been part of the Union Pacific inventory for 73 years.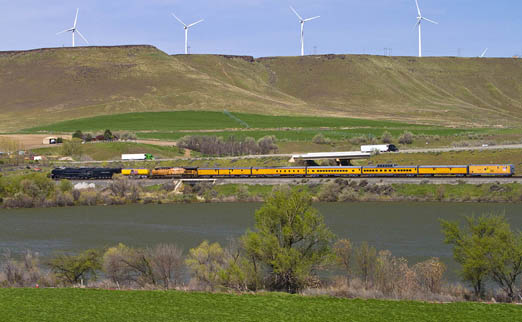 The historic locomotive is based in Cheyenne, Wyo., and will pull into the Boise Depot around 5 p.m. Saturday on a run called the "Boise Turn Special." Sunday, April 23 — will mark the 92nd anniversary of the iconic depot.
We can only presume the Depot will be open for visitors Sunday. Since the city of Boise purchased the historic Spanish mission-style station it has been closed to the public most of the time except for special occasions and rentals.